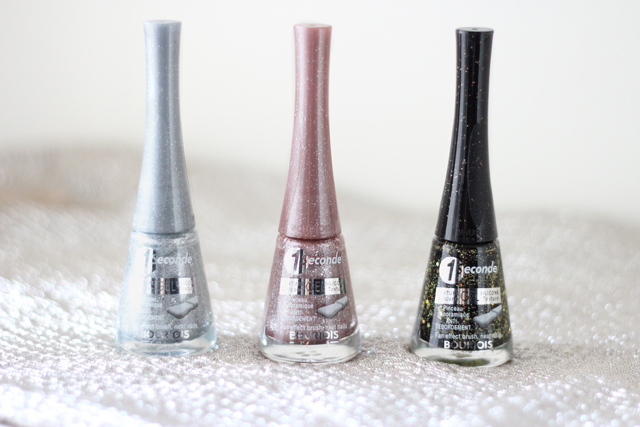 When I think about it, I haven't changed that much since my childhood years. I still blast Britney songs when I am home alone, I chase Pokemons around on my Nintendo and I love a good glitter nail polish.
But as the years went by, I became more picky about my glitter picks. There's nothing I hate more than a sheer color with just one or two glitter. Or worse, the kind of nail polish that stays on your nails forever, no matter what nail polish remover you use or the stack of used cotton pads thrown on the floor.
But don't worry, I have found the Graal. Let me introduce you to the Bourjois '1 seconde gel nail polishes'.
The first shade that got me hooked is #39 'star rain', a seriously glittery silver. Liked the color, loved the formula. The formulation of these is just on point, the thick brush cover your entire nail while the pigmentation is good enough that you only need one coat. Yup, you heard me, one coat. And trust me, the glitters are there. My two other favorites are #43 'champagne showers' a silvery pink and #31 'dangerous wish' a dark grey with green glitters -beautiful.
And the best of all? It's currently on sale on Asos from less than 5€!