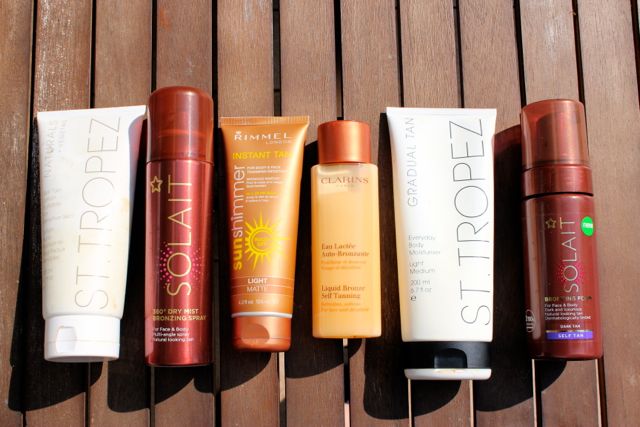 Fake tanning… These two words can bring visions of horror, from Oompa Loompa faces to zebra legs. But if you're not a big fan of the The Only Way Is Essex tan, follow my lead!
St. Tropez Self Tan Lotion for sensitive skin, available online here
This tanning lotion is everything you would want from a tanning lotion. First, it applies easily, even on tough areas like the elbows or the knees. Second, it dries within minutes, which makes it my go to choice when I want to fake tan before going out and about. It also appears completely clear on the skin but turns into this really natural golden color after a few hours. Do not expect the darkest tan from this one, but it is a great choice for a subtle tan. And I forgot to mention that it is suitable for sensitive skin but has a terrible smell to it!
Solait 360° Dry Mist Bronzing Spray, available online here
As a teenager, I used to be obsessed with fake tan in a spray form. Little did I know that it looks pretty obvious from the back… Ever since, I turn to bronzing spray to bronze up tricky areas such as the back of my hands or the top of my feet. My best tip is less is more, you can always reapply if you need a darker shade.
Rimmel Instant Tan Sun Shimmer in light matte, available online here
This is the product I turned to when I've been lazy. This bronze lotion will give you a instant fake tan that last for hours. Be careful though not to spill anything on your skin as this product is wash off (I heard that they now sell it in a waterproof formula, this should do the trick!). Be really light handed with this one, as it could turn you into a tanning mess pretty quickly.
Clarins Liquid Bronze Self Tanning, available online here 
What got me attracted to this self tanning lotion for the face isn't only the hype that surrounded it, but mainly the fact that you could apply it with a cotton pad. A pea size amount on a pad will be enough to do your whole face, ears and top of the neck. No striking possible as you apply it with a cotton pad but the color is really light. To be honest, I use this product probably three times a week, right before I go to bed and wake up with the most gorgeous surf babe tan! It is love in a bottle!
St.Tropez Everyday Body Moisturizer Gradual Tan, in light to medium, available online here
I find it quite depressing to see your fake tan fade quickly, but between showers and baths, it can wave goodbye pretty quickly. To avoid this and maintain my fake tan a bit longer, I use this gradual tan lotion everyday. It keeps my skin moisturized while preserving my tan. I don't tan very much when I go on vacation, so I always make sure to pop this bottle into my bag!
Solait Bronzing Foam in dark tan, available online here
When I first tried a bronzing mousse, I was really, really skeptical. But the truth is that when you buff it into the skin using a bronzing mitt, it is the easiest and quickest way to get a natural tan! I tend to do that right before going to bed as it leaves your skin olive colored, and rinse it off the next morning under the shower!
So, tell me, do you have any fake tanning tips? Please share them in the comments section, and don't forget to check out my beauty board on Pintetrest!