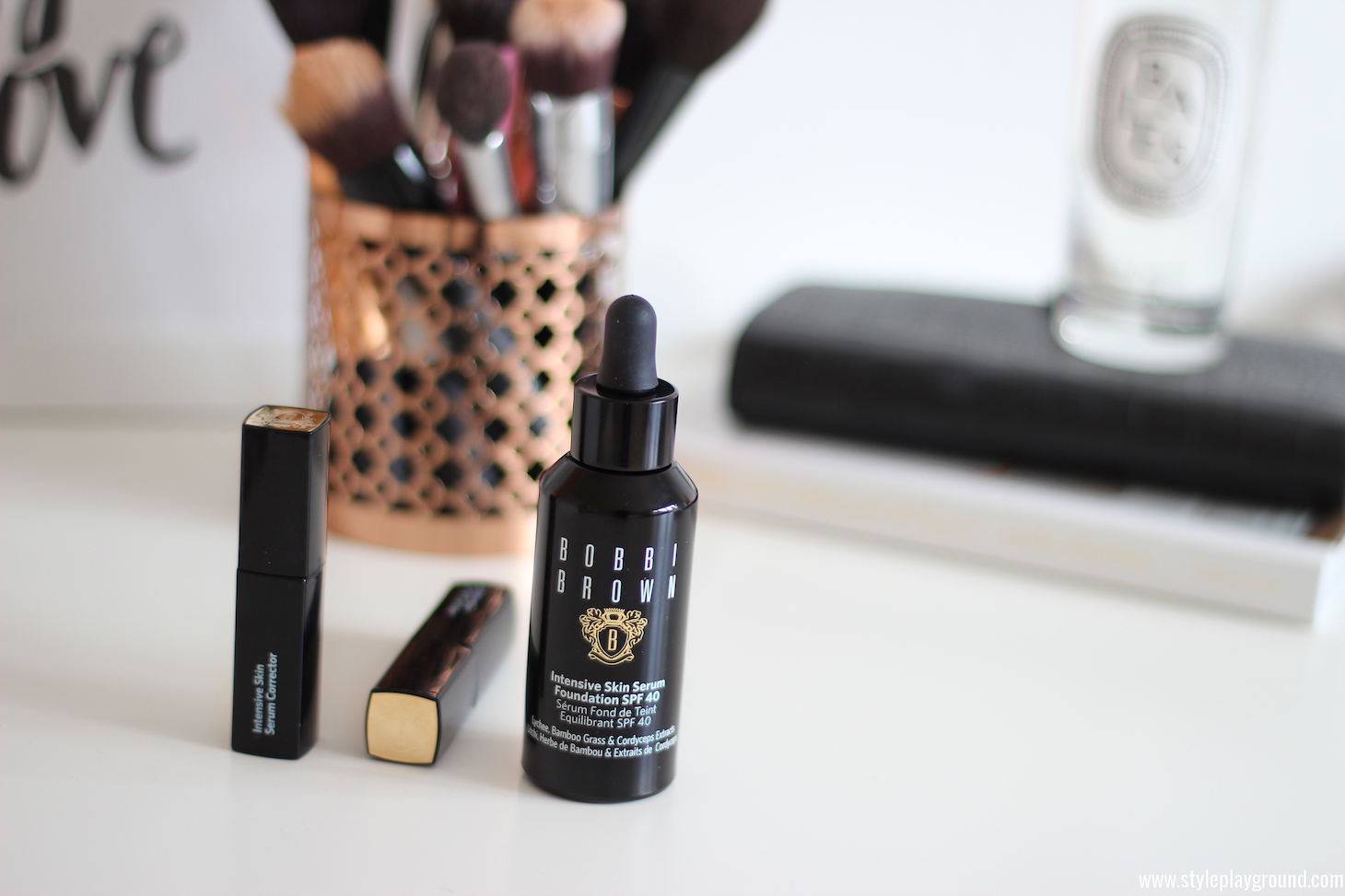 When it comes to flawless complexions, Bobbi Brown is pretty much an expert. With an incredible range of correctors, concealers & foundations, it's pretty easy to find your perfect match. And as much as I've been loving her products for years now, its her most recent launch –the intensive skin serum range– that has wowed me the most, let me explain.
The idea behind this range was to create the perfect base products with added skincare benefits. The range is packed with incredible ingredients such as Cordyceps mushrooms, bamboo grass & lychee extracts to keep the skin nourished, fresh and bright all day long. Previously, I've rarely seen the results of makeup products with added skincare benefits. I've found that some concealers weren't opaque enough to cover my dark circles and left my eye area a bit greasy while BB creams didn't really made my skin look & feel better. But this has completely changed for me with this range.
Let's start with the intensive skin serum corrector, shall we? I've been using Bobbi's corrector in light bisque for years now. It was a real revolution when I started using it: this salmon color product would erase all the blue hues of my dark circles, which meant that with a bit of concealer over the top, they were gone, as simply as that. The original formula comes in a little round pot and although it's a bit thick, it melts beautifully onto the skin and never look cakey. It's a product that is one of my must haves so when I saw this more liquid version, I had to get it. This version comes with a doe-foot applicator, which makes it even easier to apply. It blends within seconds onto the skin and leaves it looking bright and fresh. It doesn't crease or cling onto fine lines and really hides those blue tones to the perfection. Next, we have the intensive skin serum concealer. I personally use the shade beige, although I have the shade sand in the original creamy formula. Just like the corrector, this applies easily underneath the eyes to hide bad dark circles. It feels a bit fresh & cooling and has a pretty decent coverage. You can totally build it up if you feel like you need to but honestly, just one layer of that over the corrector is plenty enough.
But the real star of the show here is the intensive skin serum foundation. The black bottle and the pipette applicator are key elements that make it stand out already but it's what's on the inside that is truly breathtaking. The formula is very liquid and applies beautifully onto the skin. It's easy to blend and the fact that this smells exactly like the This works deep sleep range makes it that much better. The coverage is definitely there and although I didn't get my usual color (I got beige instead of sand) the color match is simply perfect. But for once, I can see a real difference compared to a more normal foundation. This product doesn't dry out my skin at all and doesn't cling onto any dry patches. It seems to keep my skin nourished through the day while never looking greasy or too dewy. Within a few days, I noticed that my skin looked more plumped and I had less breakouts as well. Furthermore, when I take this off at night, my skin doesn't feel irritated or sensitive, it doesn't go red and feels very smooth and hydrated. I knew right when I applied it for the first time that this would become a staple for me and I wasn't mistaken. I've been using it for about two weeks now and I haven't touched any other base product since. So thanks Bobbi Brown, once again, you've outdone yourself!