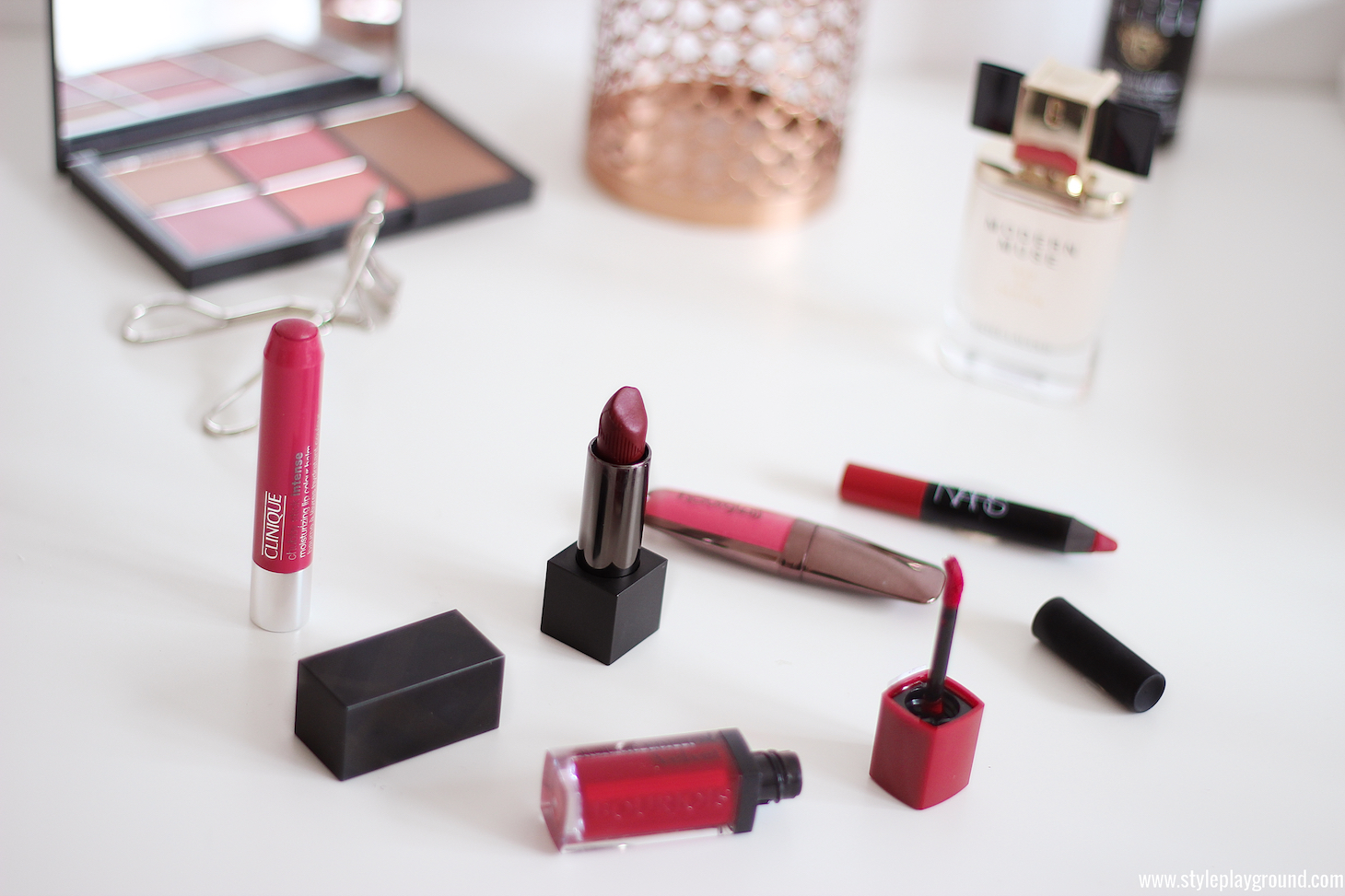 In my opinion, the quickest way to instantly lift your mood on a gloomy day is by applying a beautiful lipstick. And as much as I love Fall, some days feel a bit morose, so say the least. So here are my 5 favorite lip products for these kind of days…
The Clinique chubby stick intense in 'roomiest rose' is probably to easiest to wear of them all. This big pencil delivers a highly pigmented raspberry shade onto the lips. It's also packed with mango & shea butters so make lips instantly soft and plumped. It's my go to shade right now, and the perfect one to throw into your handbag. If you like matte finishes, rejoice cause these next products are amongst the best available on the market. The Hourglass opaque rouge liquid lipstick in 'edition' is by far the most long lasting formula I've ever tried. This beautiful dark pink coral color stays put on the lips no matter what. You can eat, drink or do whatever you want, this will not budge. It's the perfect one for a busy day when you want to look put together but don't have time to worry about your makeup. Beware though, as this doesn't layer very well… So take it off nearly completely before reapplying to avoid any bad surprises. The drugstore alternative to this one comes from Bourjois in the form of their rouge edition velvet. My personal favorite is grand cru, a very powerful burgundy red that looks breathtaking. I am pretty shy when it comes to wearing a statement lip, but this one feels somehow doable. The application is easy and mess free and although it doesn't last quite as well as the Hourglass version, this one layers pretty well, so you can reapply it through the day (or night!) without thinking too much about it. But the easiest matte lip out there is, without a doubt, the Nars velvet matte lip pencil in 'Cruella'. You might seeing me wearing it in this instagram post as it matched my dress pretty perfectly… This crayon is easy to apply straight onto the lips and delivers the perfect scarlet red color onto the lips. And while its finish is very matte, the formula doesn't feel drying on the lips thanks to the added vitamin E. Finally, if you want to go full out and treat yourself, the Burberry lip velvet lipstick in 'oxblood' is for you. This lipstick does exactly what it says on the tube: the color is a true oxblood with a really matte finish. I find this to last pretty well on the lips although you will need to reapply it after lunch or dinner.
What's your favorite lip product right now?