If there's one brand name that I've always heard beauty enthusiasts talk about, it has to be Environ. I first heard this name pop up in conversation years ago but I never had the opportunity to see the products in real life. Truth is that I tend to always try new products from brands that I already know and love but when Environ reached out to me to ask if I wanted to try a whole routine, I simply couldn't say no.
This was back in March and at the time, I was already very picky about my skincare routine. I knew that my two wedding dates were coming very soon and with a skin as complicated as mine, I was sure of one thing: it wasn't the time to try anything too drastic. My Environ skincare kit came with a full schedule for 2 weeks with different steps to take every single morning and every single night. I have to say that this made me even more curious and after debating whether or not I should wait until summer to try it, I finally decided to go for it.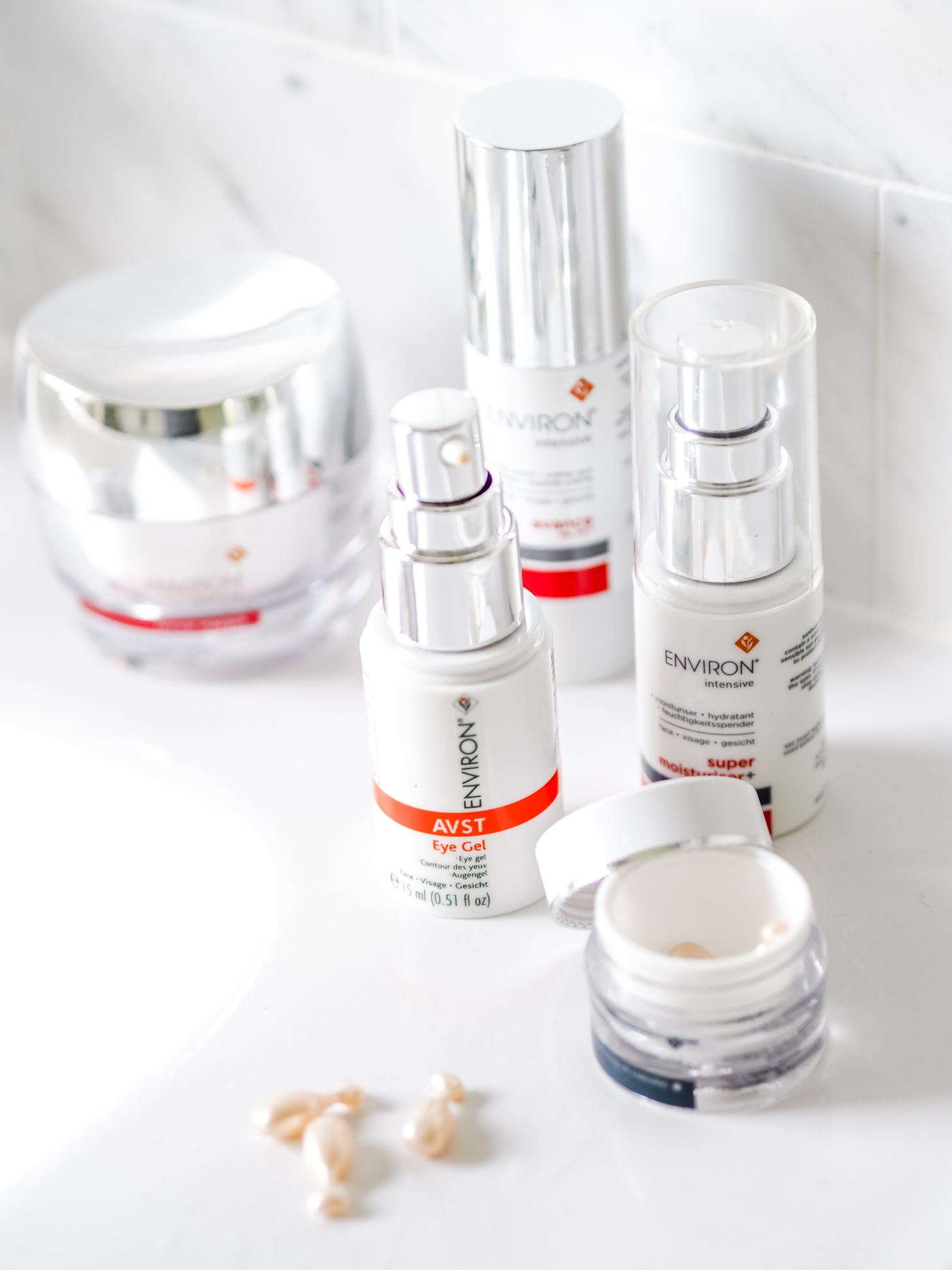 Here we are, two months down the line and while not all the products made it to my everyday routine, I am happy to report that some are true gems.
Let's start with the eye gel. It comes in a great pump packaging that dispenses just the right amount of product. It feels very nourishing on the skin but I would recommend only using it at night since the texture is very rich and doesn't provide a great base for your concealer. Recently, I've noticed that the skin around my eyes was looking a bit more dry than usual but this solved the problem almost immediately. Another product that I completely fell in love with is the avance dfp 312. This peptide cream is an hybrid between a serum and a moisturizer and it really makes a difference. While it hasn't replaced my Estée Lauder advanced night repair at night, this has become my daytime serum and I absolutely love it. Lastly, the third product that I added to my routine are the hydrating oil capsules. These little capsules are filled with a thick oil that works magic on the skin. I applied it on my face and neck for 5 nights in a row and my skin had rarely looked this good. I find it a bit too thick and greasy for my liking but since it works so well, I am ready to deal with it. While this isn't a product that I would use everyday, I feel like this would be the best skincare product to throw into your suitcase. Since all the oil is contained in little capsules there's no risk of it spilling all over your beauty bag and since this is so potent, it will be the perfect treat for your skin after a long flight!
While I liked using the super moisturiser+, I have to confess that I don't find it extraordinary. I am pretty picky when it comes to face creams and I am yet to find my one true love and this one didn't make the cut. I find that it sits onto the skin rather that sinking in and it simply wasn't for me. The other product that didn't wowed me is the revival mask. It certainly made my skin feel nice and plumped afterwards but I hate the way it sits on the face and the smell reminded me of a doctor's office… Not really something that I want my bathroom to smell like!
So, did any of you ever tried Environ before? What were your thoughts on it? I would be very curious to hear your reviews!
Products have been sent to me for consideration. This post is not sponsored.