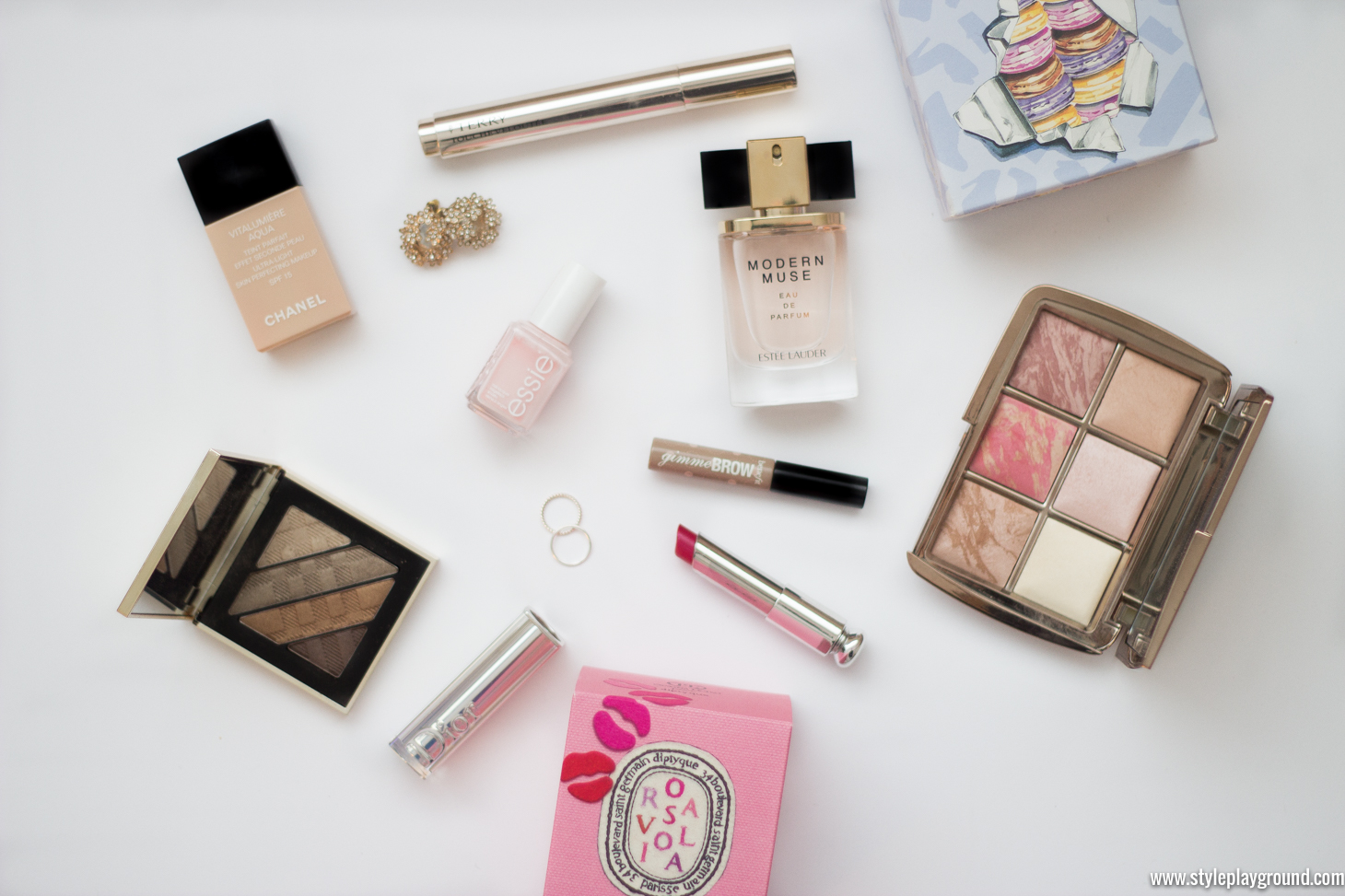 If I am being totally honest, I am not big on Valentine's day. Sure, it feels nice to see pink & red decorations popping everywhere but it's not a day that I look forward to each year. That being said, I always use it as the perfect excuse to plan a at-home date night with Renaud. As crazy as it sounds, we barely see other at the moment and I look forward to a nice dinner, a glass of wine and a good movie in our home.
Well, of course, being the beauty enthusiast that I am, I couldn't resist picking up products that would be perfect for Valentine's Day but also for any date night year round! First, I would start things with a fresh, luminous complexion. A few drops of the Chanel Vitalumiere aqua foundation applied with a damp beauty blender would be perfect. This lightweight foundation looks very natural on the skin while perfecting it and hiding any imperfections. I would then apply a bit of the By Terry touche veloutée underneath my eyes and around my nose to highlight these area while covering any dark circles or redness. For powders, I got everything covered with my Hourglass ambient lighting edit palette. I like to apply a bit of bronzer using a 8 motion on my cheeks and then add a pop of color by mixing the two blush shades together and concentrating it on the apples of my cheeks. For eyes, I would keep things really simple since I am wearing eyelashes extensions at the moment which already add a bit of drama to my eyes. A simple wash of eyeshadow from the Burberry complete eye palette in #25 gold would be the right pick. A quick brush of Benefit gimme brow would be enough to add a bit of shade and definition to my brows. Last but not least, I would finish of the look with my favorite Dior addict lipstick in the shade Be Dior. This deep berry shade is the perfect splash of color while keeping your lips nice and hydrated.
To finish off the whole look, I would go for two coats of Essie muchi muchi and a few sprays of Estée Lauder modern muse.
Do you have any plans for this Valentine's Day? Will you be spending the evening with your besties watching some movies or are you planning a romantic night out? Let me know in the comments down below!