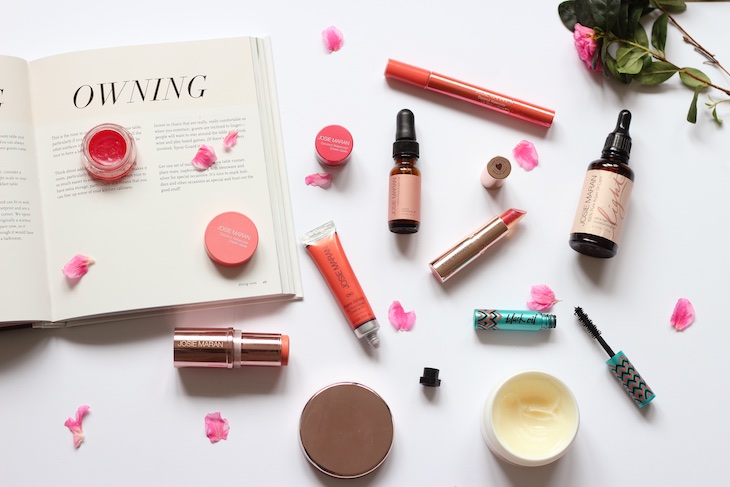 There are a few things that I believe in when it comes to beauty. First of all, skincare is the most important thing in my opinion. If you spend a few extra minutes to take care of your skin morning and night, it will look a hundred times better. Then, I believe that finding your signature makeup look is as important as having a great pair of jeans. Finally, I believe that beauty should be simple, effective and natural.
And if there's one brand that translates my philosophy into amazing products, it has to be Josie Maran. Now, let's rewind a little bit here to go back to 2013 when I first tried the brand. I was in Chicago with my bestie Aurore and we would stop by Sephora pretty much every single day. We both love beauty products and Sephora looks like heaven for us. Aisles and aisles of products that are not available in Europe, new textures, new scents, we could easily spend hours in there without being bored a single minute. It was during one of these trips that I spotted the Josie Maran counter. At the time, I didn't know anything about the products, the brand or Josie herself but I was immediately drawn to it. To be honest, it can feel a bit overwhelming at first but once you get to know the brand's philosophy, it's pretty simple. Josie Maran is all about great ingredients, cruelty-free products that still are effective and super luxurious. She also believe that beautiful skin needs to be hydrated therefore the majority of her products are infused with either argan oil or coconut oil for added moisture.
The first product that I purchased was the Argan color stick in coral. I wasn't too sure about what I should try first but this coral blusher caught my eye almost immediately. And I was right, this stick is all sorts of amazing. Since it has argan oil in it, it feels very creamy on the skin but once it's set, it's here to stay. The color is my go to as well, a beautiful, fresh coral that never looks too orange.
Ever since that first purchase, I've been addicted to Josie Maran's products. They all feel very luxurious, very natural all while being gorgeous as well. My all time favorite is the Argan oil light. While I first got the original version, I discovered the light version last year and ever since, it hasn't left my bathroom cabinet. This 100% pure argan oil is like no other. It feels super smooth on the skin while nourishing it deeply and it makes my whole complexion a lot more better. If you're going to purchase one product from the brand, it should be this one. Another product from the range that I really love is her black oil mascara. I got it in a set and I am glad I did because I would never have purchased it otherwise. I tend to use mainly drugstore mascaras but this one is so good that it justifies its price tag. The formula is very black and long lasting while making your lashes longer and fuller. Plus, it makes them super soft and I feel like it actually helps them to grow longer. If you're more of a lipstick person, I have two recommendations for you. The first one is the Argan love your lips hydrating lipstick in the shade playful pink. This lipstick is one of the most hydrating one that I have ever tried and I love the 'just bitten' effect that it gives to my lips. While I find the color to be a bit too Barbie pink for my complexion, I totally plan to pick up this shade next time I am overseas. Another lip product that I absolutely have to mention is the coconut watercolor lip stain + shine. While the name is a mouthful, the product itself is glorious. This dual ended pen has a lip stain on one side and a lipgloss on the other, which can either be worn separately or together. While I've never been a fan of lip stains that I often find drying on the lips, this one is infused with coconut water and keeps the lips moisturised through the day. I've find that the color doesn't budge no matter what you do but this also means that it's a bit of a nightmare to take off at night (I find that a bi phase makeup remover works best). The lip gloss isn't much on its own but it's very impressive layered on top of the lip stain as it really makes the color pop. The shade that I have (coral oasis) is absolutely beautiful but I really want to add poppy paradise to my collection as well. Finally, another multi purpose product that I love is the watercolor cheek gelee. I've already talked about it in more details over here so I won't go on and on about it, but this is a product that I always take with me when I am travelling.
Have you ever tried anything from Josie Maran? I would love to hear your recommendations!