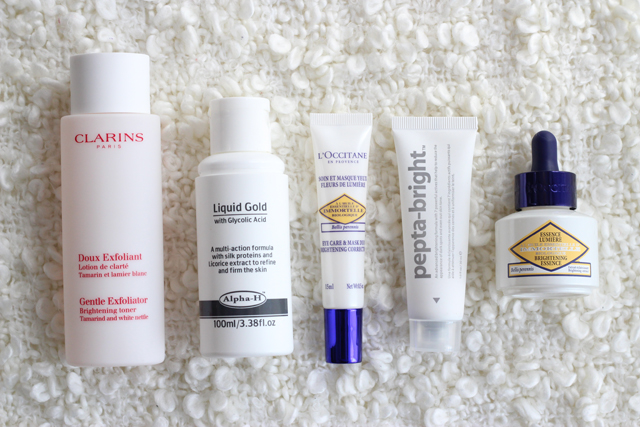 As I was spring cleaning my bathroom cabinets the other day, I realized that I own quite a serious amount of brightening warriors in my skincare stash. Brithening my skin wasn't really a concern for me until I tried a couple of products that made such a good impact on my skin that I've been adding them to my daily routine. Ever since, my skin has been really healthy and balanced, no more dry patches and random spots all over my forehead. Curious to know what I've been loving?
First of all, let me introduce you to your new best friend, the Clarins 'gentle exfoliator brightening toner'. Now this bottle was like the Graal, it was nowhere to be found although everyone on the blogosphere was going mental about it. I looked for it in Chicago, in London but it is finally in Brussels that I found it. This peach toned toner is a gentle mix of wonderful skincare ingredients amongst which are glycolic, salicylic & tartaric acids. Don't be put off by the term 'acids' because these are actually wonderful for you. This toner will gently exfoliate your skin without scratching it like some 'traditional' exfoliants can do. Your skin won't be thinned down but I do recommend that you wear SPF on a daily basis whenever you're using acids on your face (and even if you don't!). Clarins states that you should use it once to twice a week but honestly, I use mine almost every single night after cleansing and before applying my serum of choice.Alpha H 'liquid gold' follow the same principles as the Clarins toner, but in a much more concentrated form. Packed with glycolic acid, this treatment is designed to be used on its own about once a week. I always apply it on super clean skin (I make sure to double cleanse) with a cotton pad and go straight to bed. That's it. Nothing else goes on my skin, as crazy as it sounds. It has a slight tingly effect on the skin but I promise you that you'll wake up with gorgeous, bright looking skin. I reach for this bottle whenever my skin is acting funny or when I feel a spot coming up. Be warned though that this stuff is pretty expensive, but that a little goes a long long way!One of my main concern about my skin is my ever growing dark circles.
Although I sleep way better now than a year ago (thanks to acupuncture and these little guys), my dark circles won't go away. And as much as I love my Nars 'radiant creamy concealer', I am not too fond of applying 4 layers of it under my eyes everyday. A new product that I recently discovered is the l'Occitane 'immortelle eye care & mask duo'*. Honestly, this stuff is beautiful. It has a metal applicator that I simply adore as it makes my eyes less puffy in the morning and forces me to spend a little extra time working the product into my skin. The product itself is a really cooling gel that sinks into my skin really quickly while keeping my eye area hydrated all day long.
Also, it is the perfect base for concealer and really helps to cover your dark circles. While this isn't the miracle solution to your dark circle issues, it does help a lot to make your look more refreshed!Next up, is 'pepta bright' a brightening serum from Indeed labs. Everyone around me is always surprised that I use serums everyday, twice a day. Truth is, once you've tried a serum that you love, it makes the biggest difference. Basically, a serum will nourish the deep levels of your skin while a face moisturizer will only nourish the upper level. By using a serum, your face will look more radiant and smooth, and therefore anything that you put on it will look that much more better (no more patches of foundation for example!). But back to Pepta bright. This white serum will gently brighten your complexion while keeping it well nourished for the day. I love the fact that it is really light (it sinks within seconds, it's crazy!). If my skin fancies a little more hydration and attention, I like to use the l'Occitane 'Immortelle brightening essence'*, a more oily serum that takes a while to sink in but really makes a difference. When I use it regularly, my skin looks incredible, almost lit from the inside… Yup, it is that good.
Do you guys have any recommendations on brightening products? I would love to hear them!