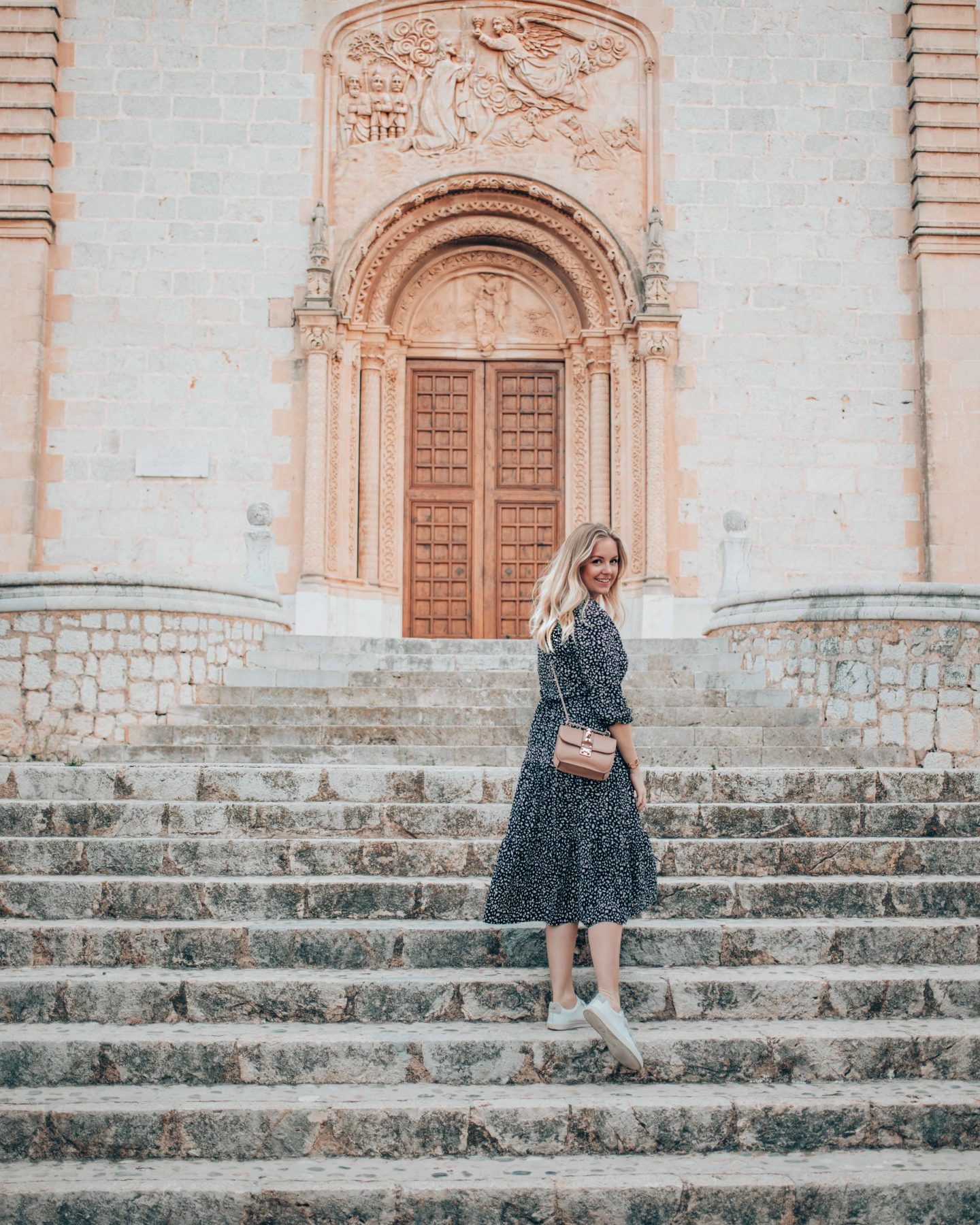 I've heard almost nothing about Mallorca until last week when I landed in Palma. Renaud & I were invited by the Calvia City Council to spend 4 days discovering the whole Calvia region, between nature, stunning beaches and mountains. Needless to say that we were very excited to pack our bags and to head to this beautiful Mediterranean island!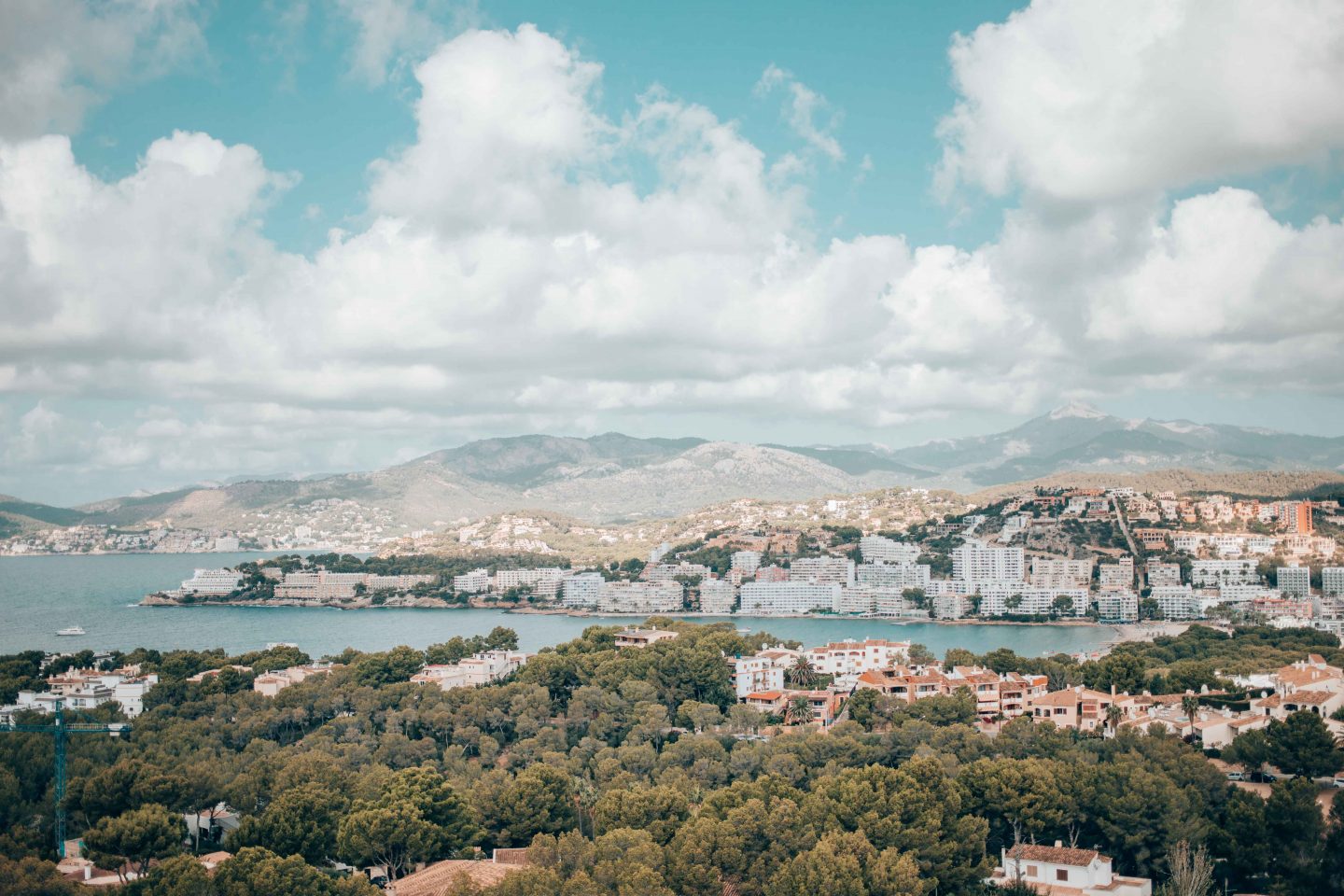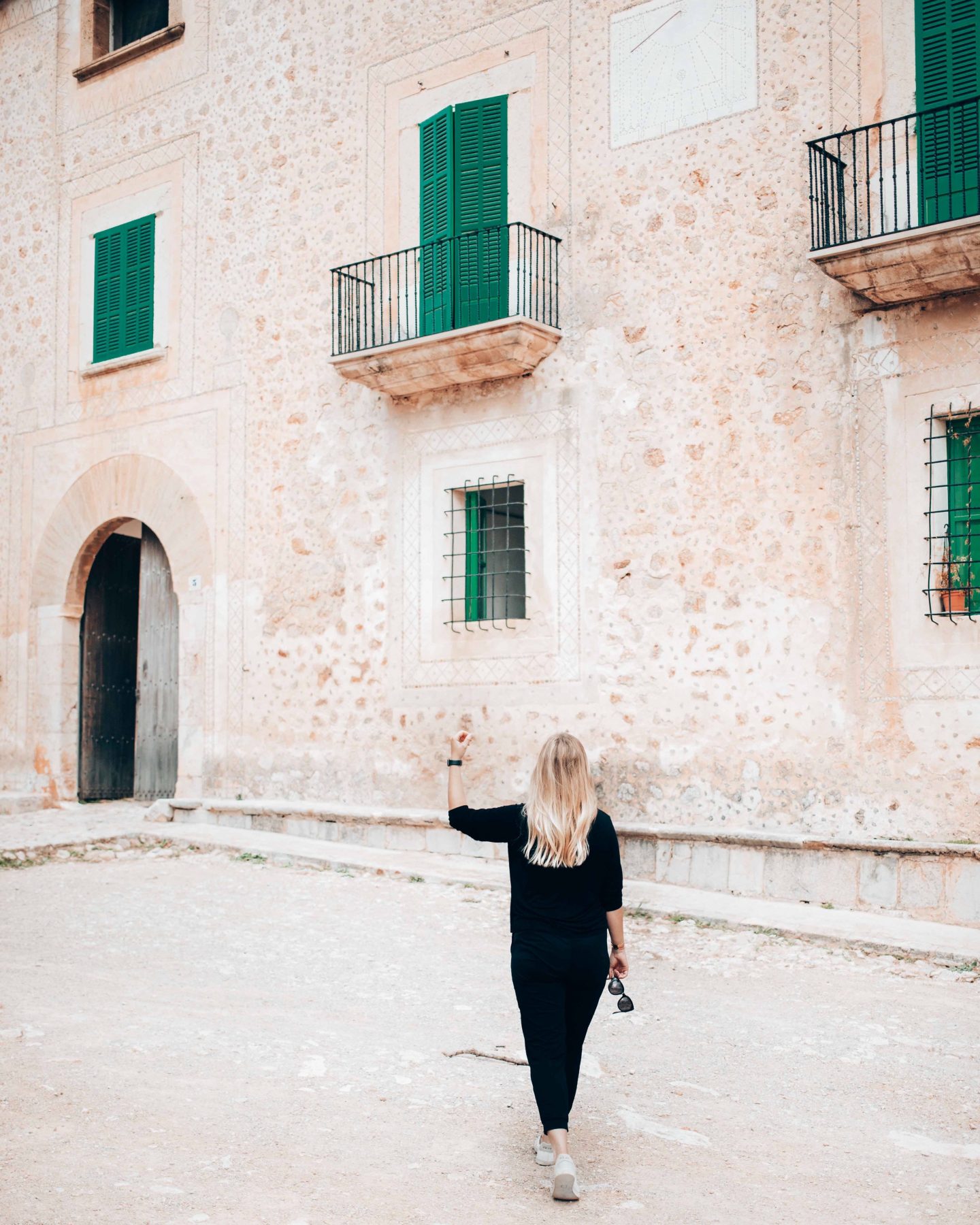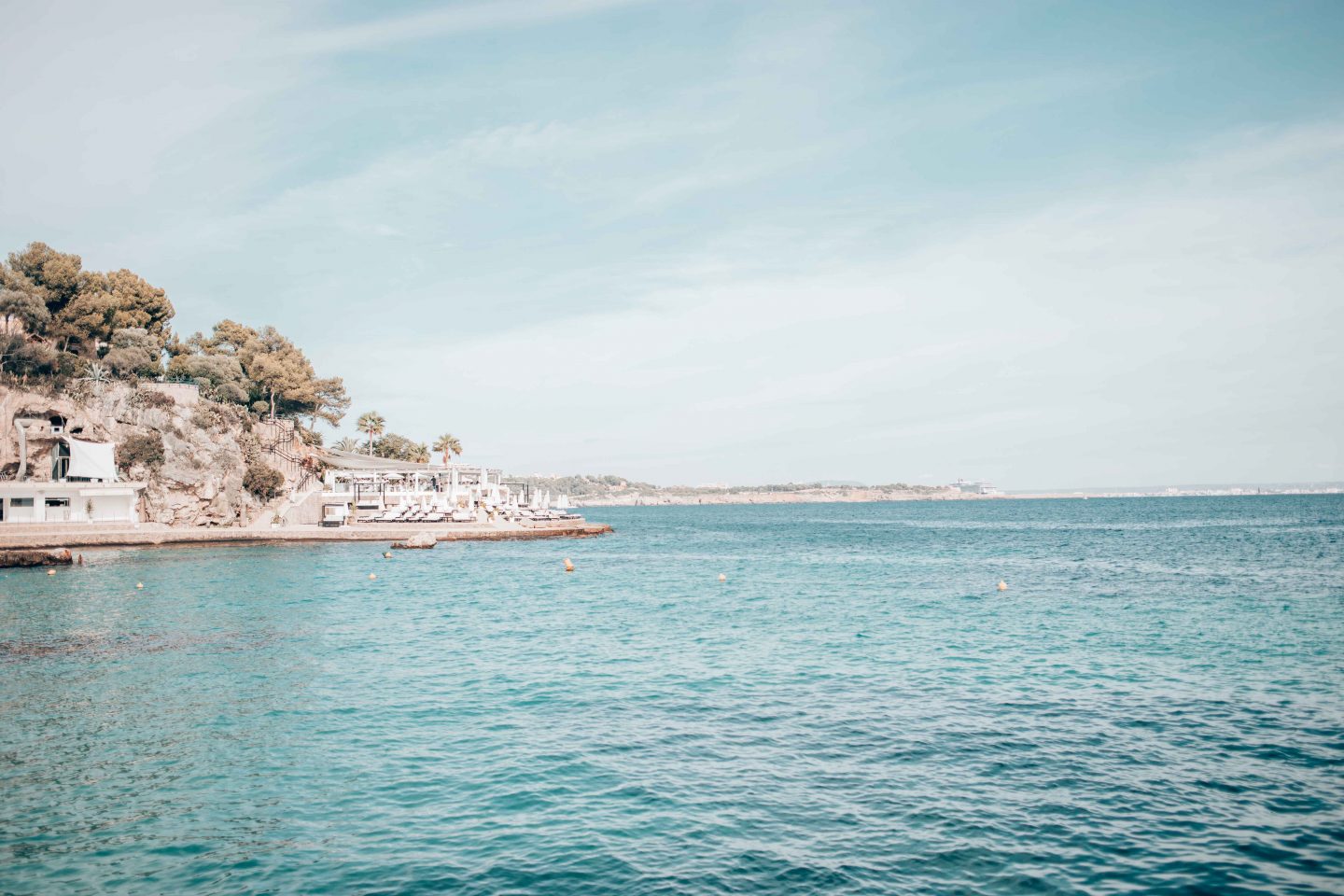 When traveling, we love to visit as much as we like to relax. Coming back to a nice hotel after a long day spent exploring is one of the best feelings in the world! This time, we stayed at the Leonardo Port Portals hotel, ideally located in the very chic neighborhood of Port Portals. Our junior suite was really spacious, with a separate lounge area and a full walk-in closet. We also had a lovely patio overlooking the swimming pool where we would spend some time relaxing in the evenings. The hotel restaurant & bar also seems to be loved by locals judging by the number of people hanging around throughout the day. We didn't have a chance to try out ourselves but I am pretty sure it must be delightful!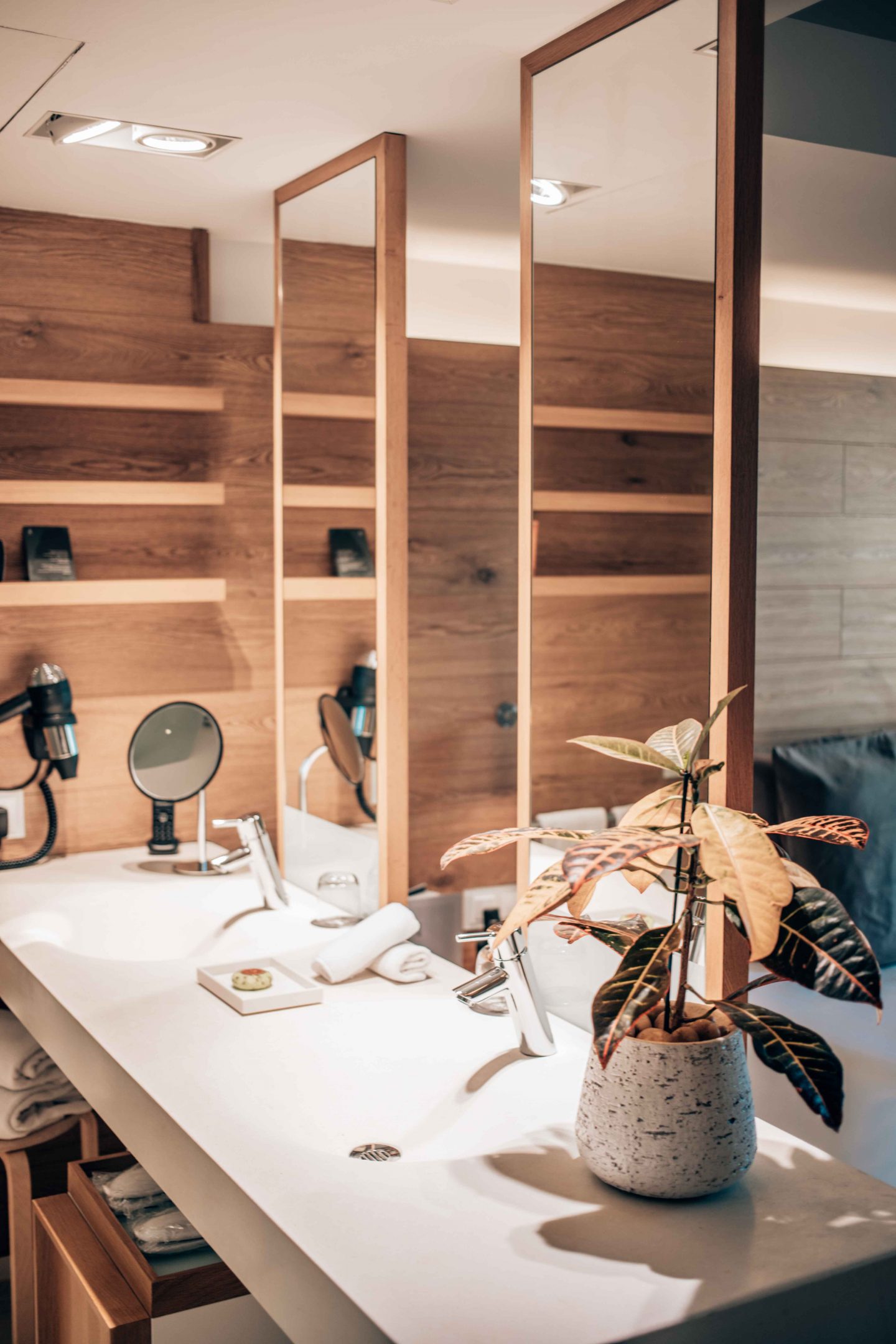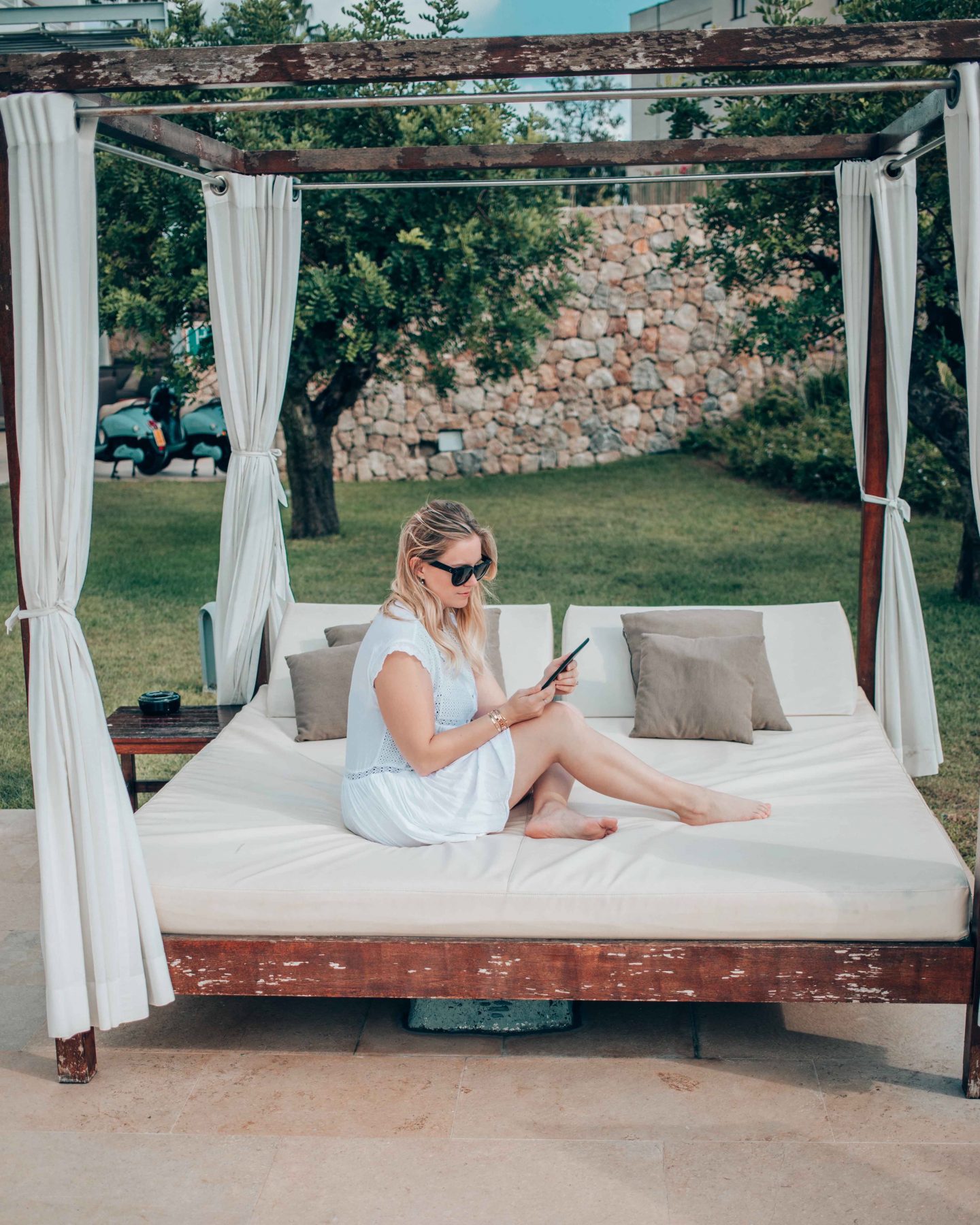 I love a good balance when I am traveling. I am looking for the perfect mix of cultural things, beautiful nature & delicious food and the Calvia region ticked all those boxes. Let's talk about what I loved the most first: the beautiful, lush nature.
On our first morning, we decided to wake up early and go for a run along the coast. I had a quick look at Google Maps beforehand and I did find the perfect little footpath just next to our hotel. While it went along the main road, it was also surrounded by beautiful nature, plants & flowers. It also had a few playgrounds & some fitness equipment along the way, which must be so amazing for the people living in the area! After our run, we headed to the beach to do some squats, leg exercises and some much-needed stretches and honestly, I am a bit jealous of people that get to work out in such a beautiful setting every day!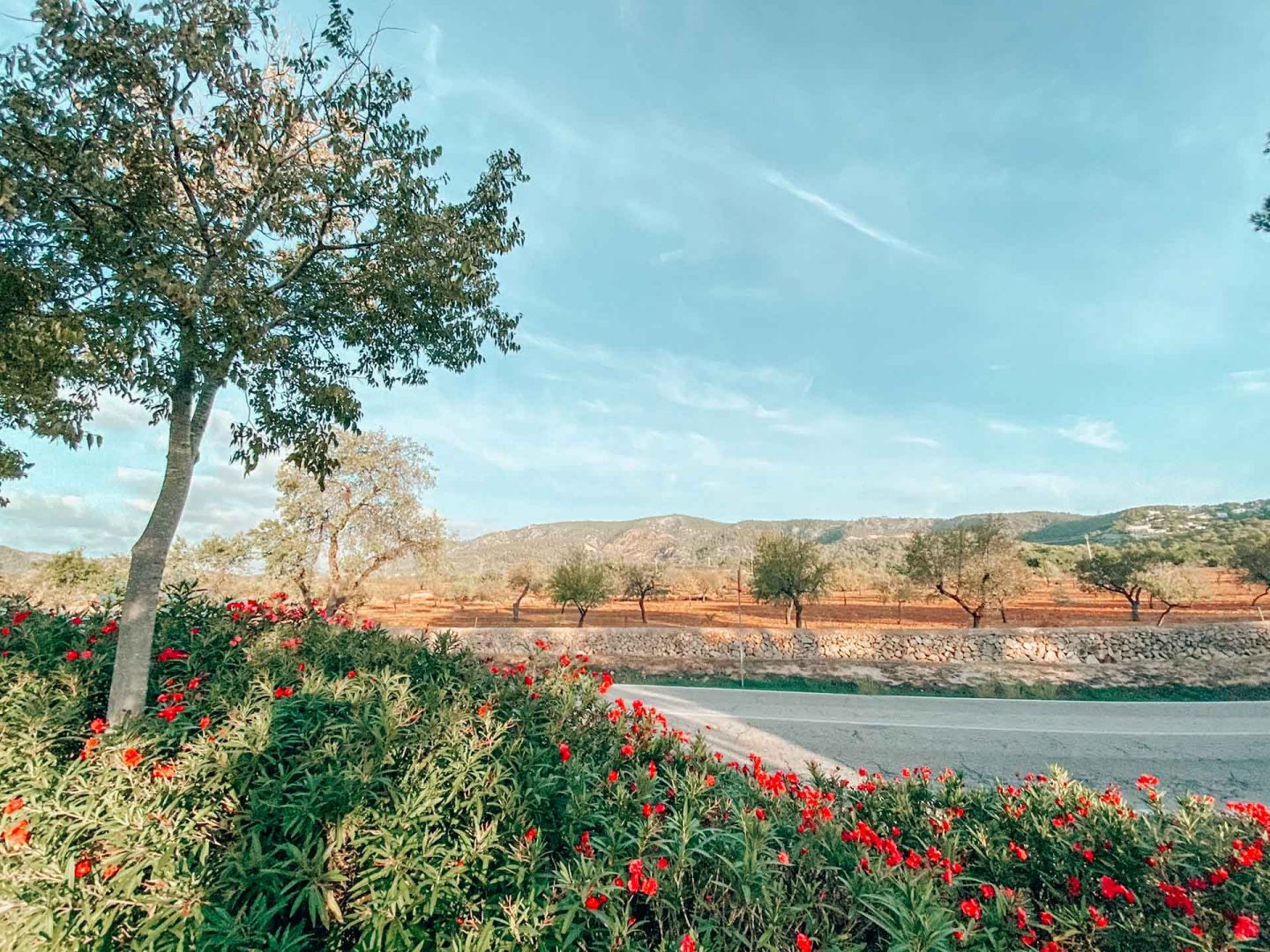 When I did look up Mallorca on Google & Pinterest prior to visiting, I came across a lot of photos of beautiful beaches but what surprised me the most right before we landed, is how green the whole island is. With rocky mountains that go up to 1400M of altitude and lush parks, Mallorca is a great destination if you want to hike or just spend time in nature.
We visited the archaeologic Park of Puig de Sa Morisca on our second day and I was simply blown away. While I was absolutely not dressed for the occasion (I highly suggest wearing leggings & workout shoes instead of a maxi dress!), the place truly resonated with me. While the first settlements go back to the Late Bronze Age, it really grew bigger and bigger over the next centuries. While there's not much to see in terms of artifacts, nature here is just mind-blowing. Upon climbing onto one of the peaks, you'll get incredible views on the beach coasts but also onto the rocky mountains and lush trees of the island. The park is free to access and it wasn't too crowded when we visited. Although we didn't stay for too long, I honestly can't wait to go back one day and just discover more of it.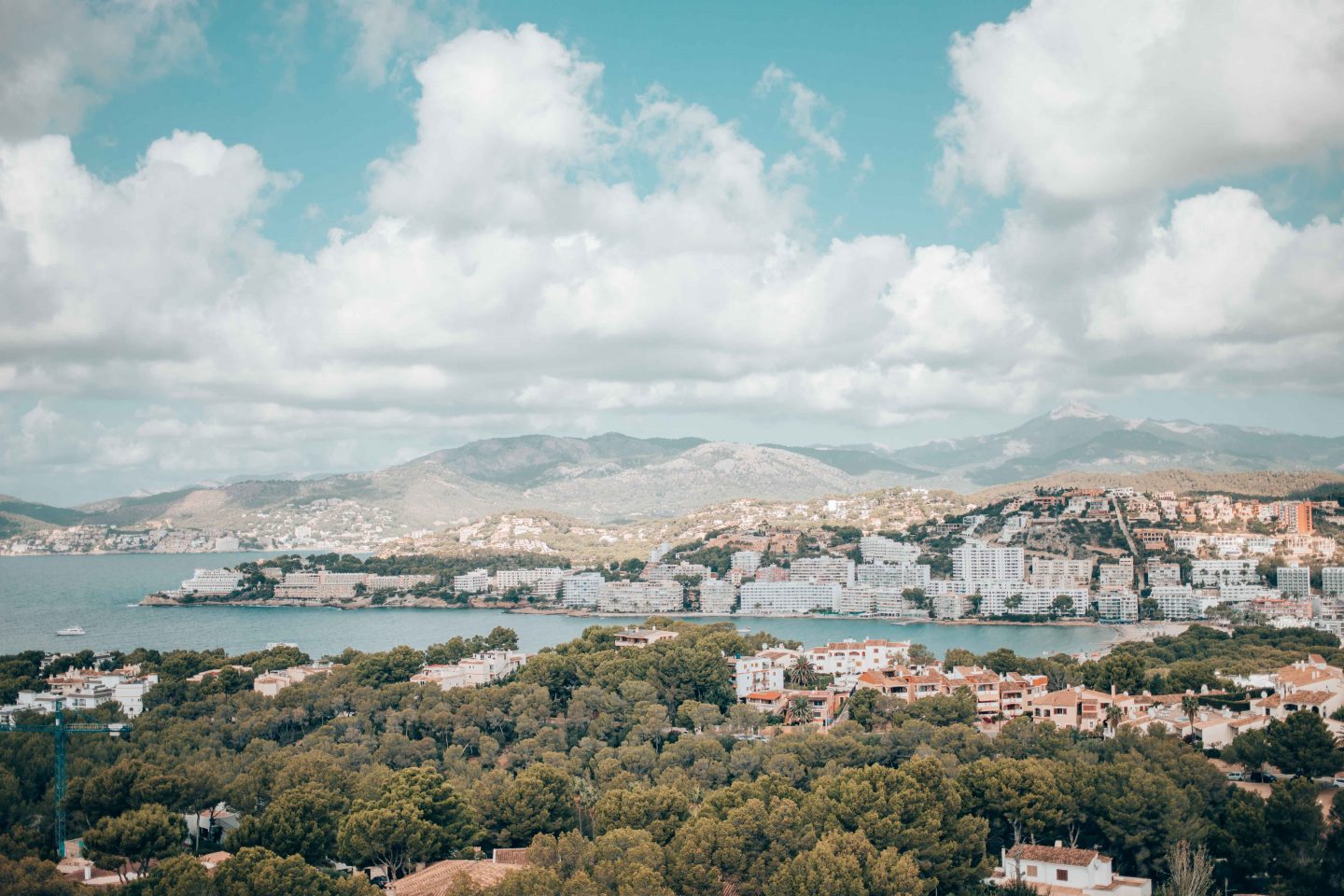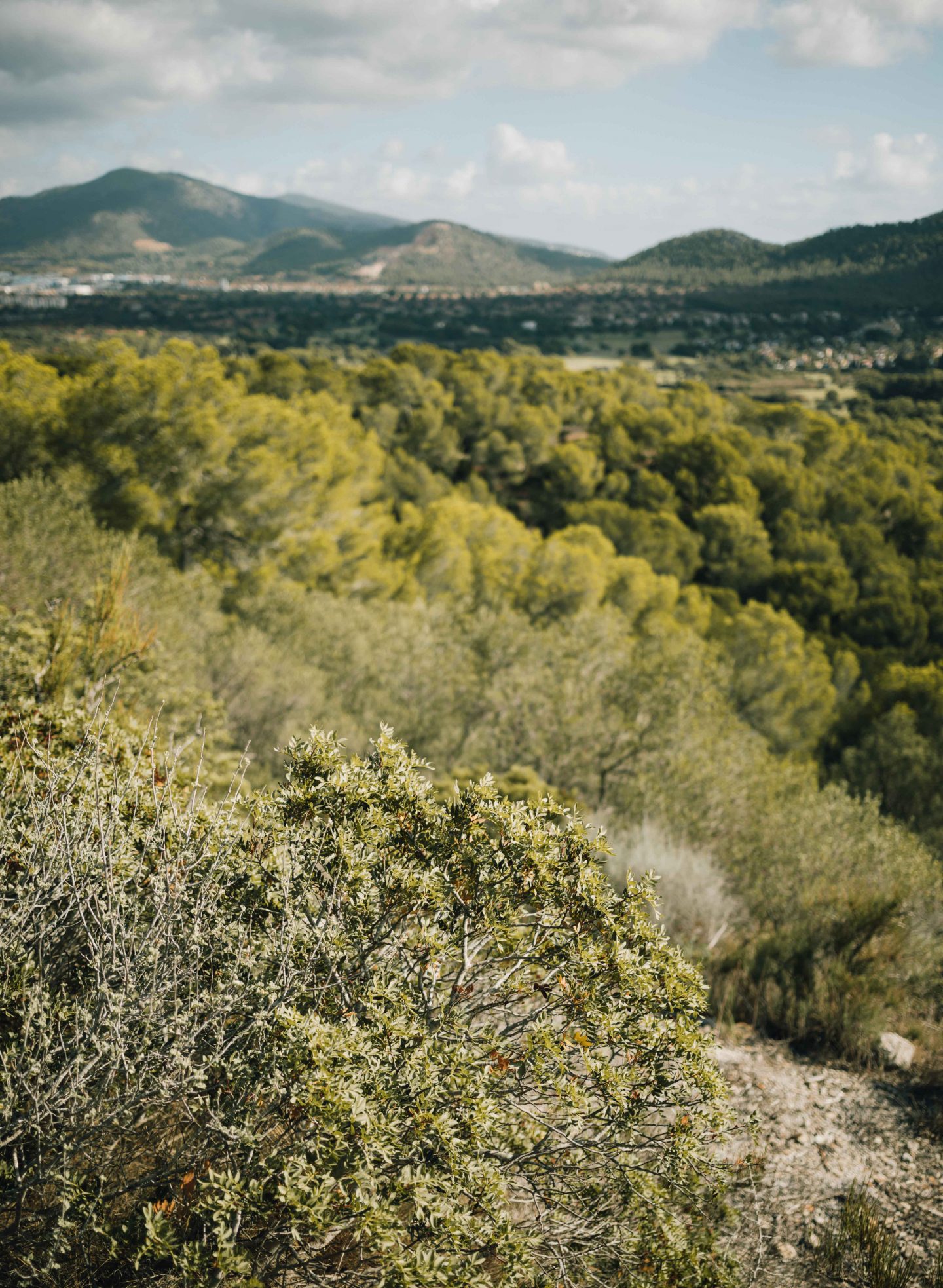 Another place that stole my heart was the Finca Publica de Galatzo that we visited on our last day. The city of Calvia bought the place a little over 10 years ago and has been making improvements in the area ever since. The area, that now belongs to each citizen of Calvia, is also a Unesco World Heritage Site. The whole place and its history just fascinated me. This traditional farm is located at more than 1000M of altitude and the whole estate covers more than 1400 hectares of nature. Galatzo is a fantastic place to spend some time with kids during the weekends or to go on a hike on one of the designated paths. We took some time to visit the farm and I found it really magical. The whole place is very serene and filled with history. Some of the rooms have been renovated, including the kitchen and the room where they produced the olive oil. I honestly hope that I'll be back one day with a backpack and hiking shoes and that I'll be able to explore the area even more.
While we were having a delicious Mallorcan brunch at the Finca, I had a chance to chat with a few people from the local tourism industry about the future of the island and I can't agree more with their vision. For most of them, there are enough resorts by the beach, so it's time to think about tourism in a different way. They want to invite people to spend more time in nature, to do some sports across the island (it's great for cycling!) but they also want to encourage the local agriculture and farming industries. Mallorca is filled with incredible talents and craftsman and I couldn't be happier to hear that it's something that they want to focus on.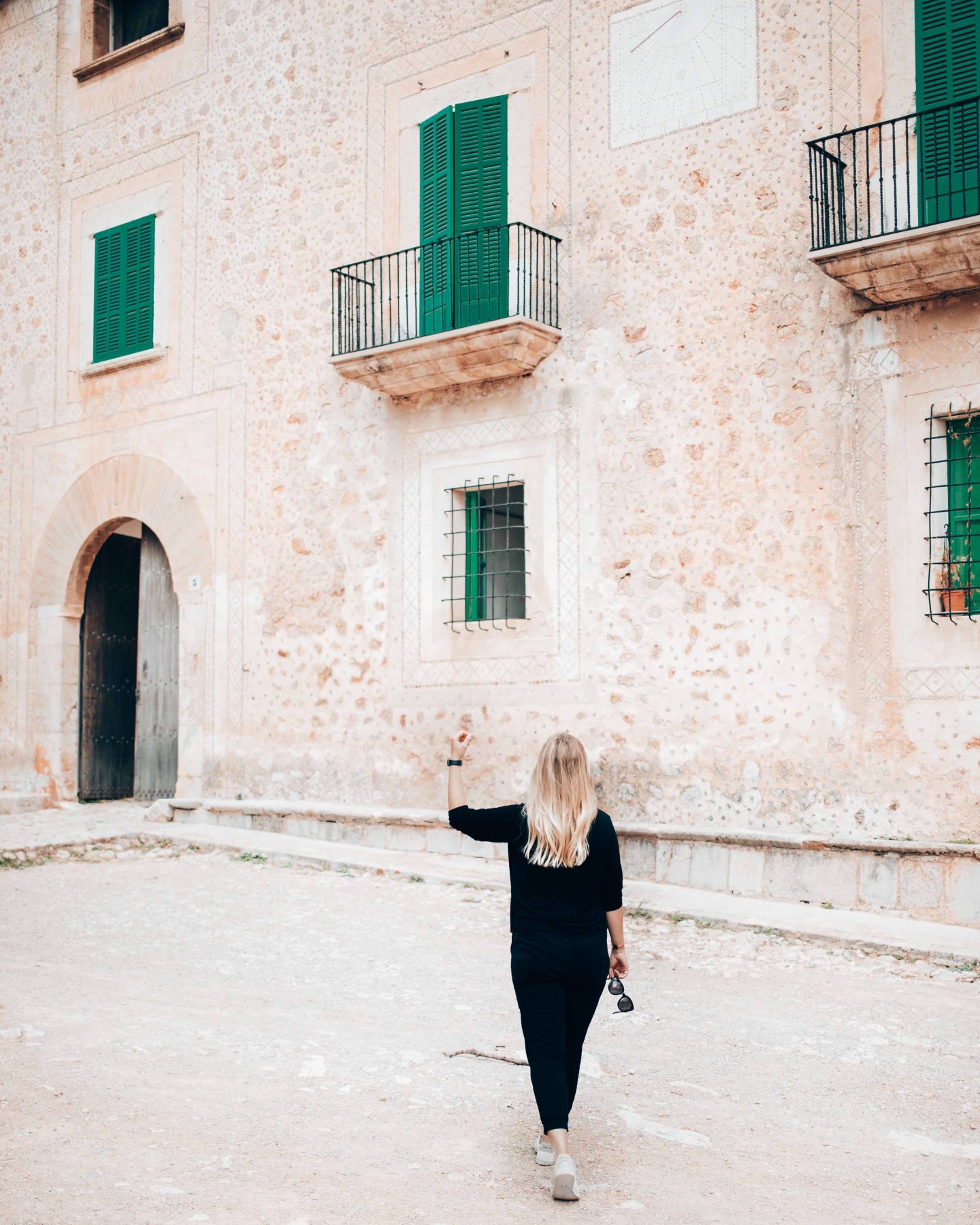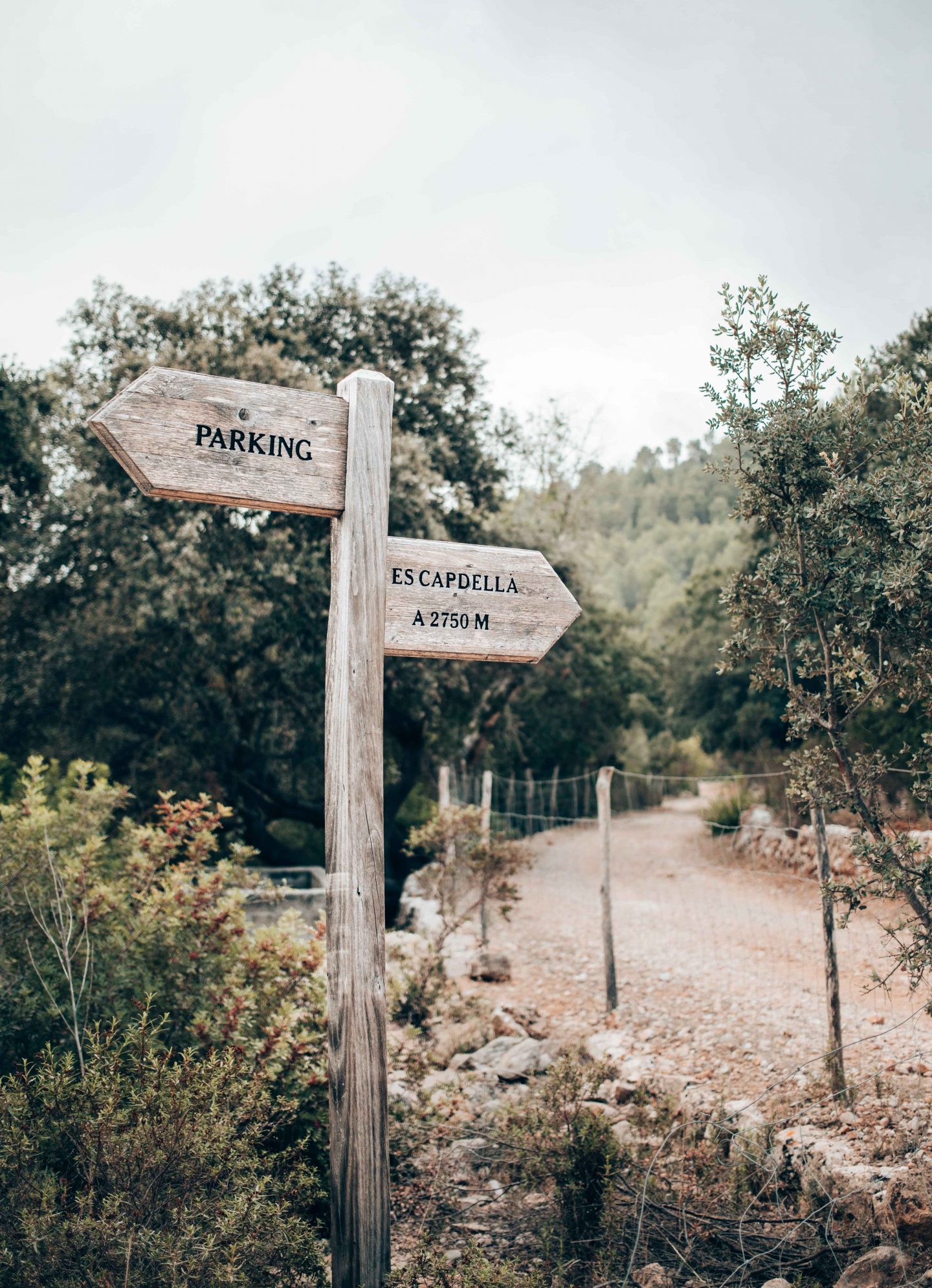 During our few days in Mallorca, the thing that really impressed me the most is the variety of activities that we were able to do, just in the region of Calvia. We could go for a run in the early morning, visit a local village, eat lunch on the beach, walk in nature all afternoon and have tapas in a luxury marina surrounded by superyachts, all in the same day!
Another highlight of this trip was the visit to the old town of Calvia, tucked away in the hills of the coast. It was fun to discover the traditional Mallorcan houses as well as the incredible church that combines different architectural styles. We also stopped by the cutest organic shop, just hidden away in an alley! They had loads of local produce, meats & also beers!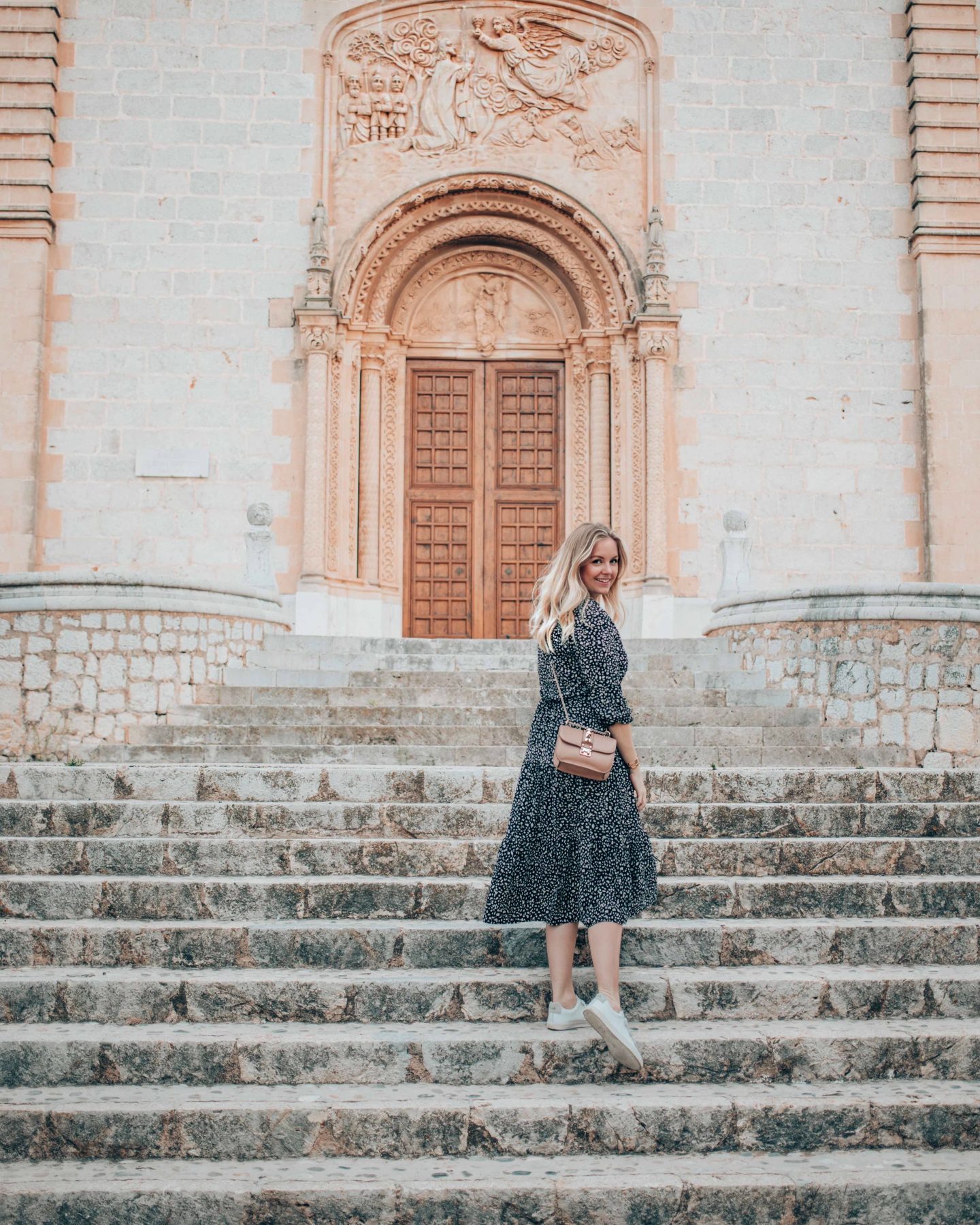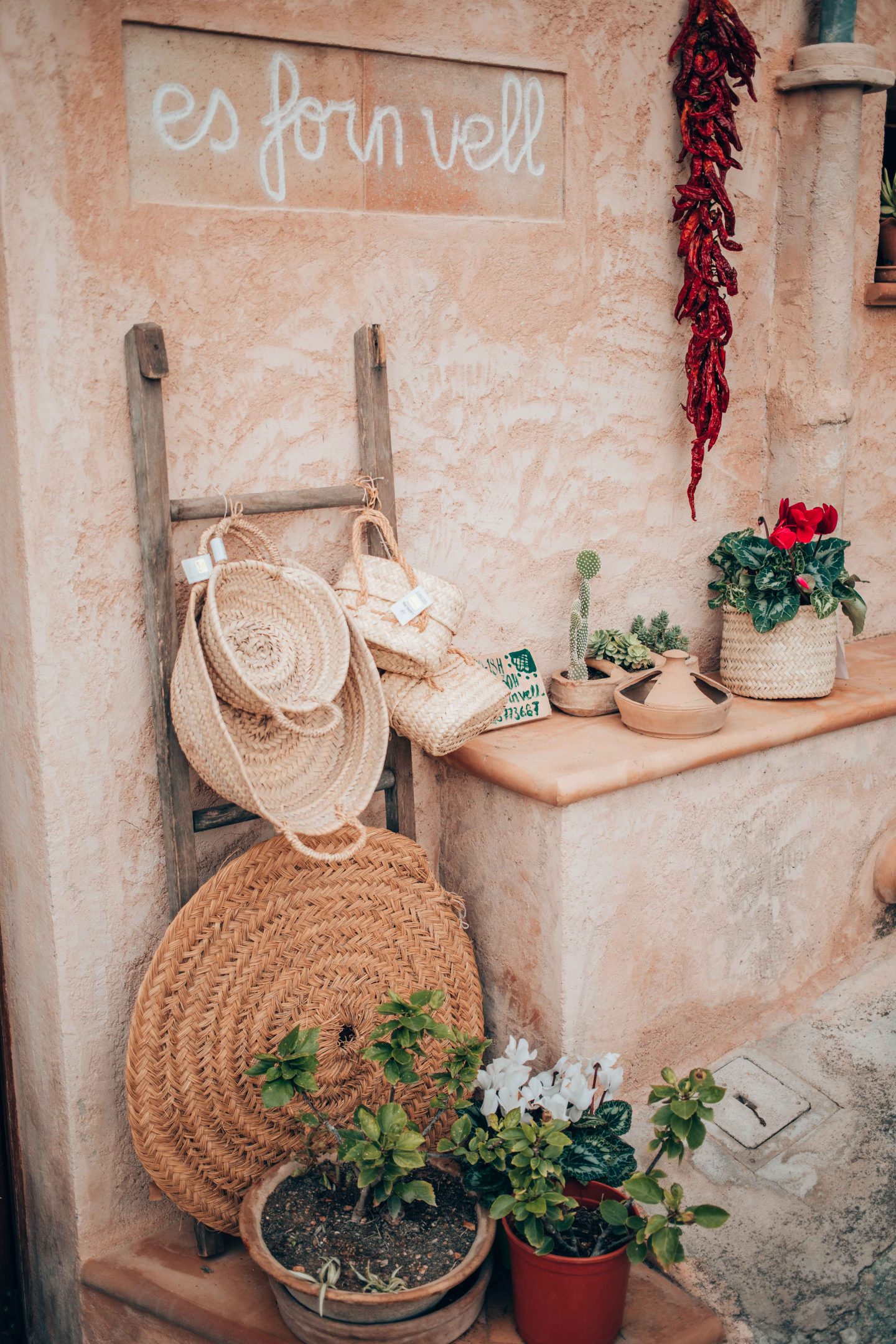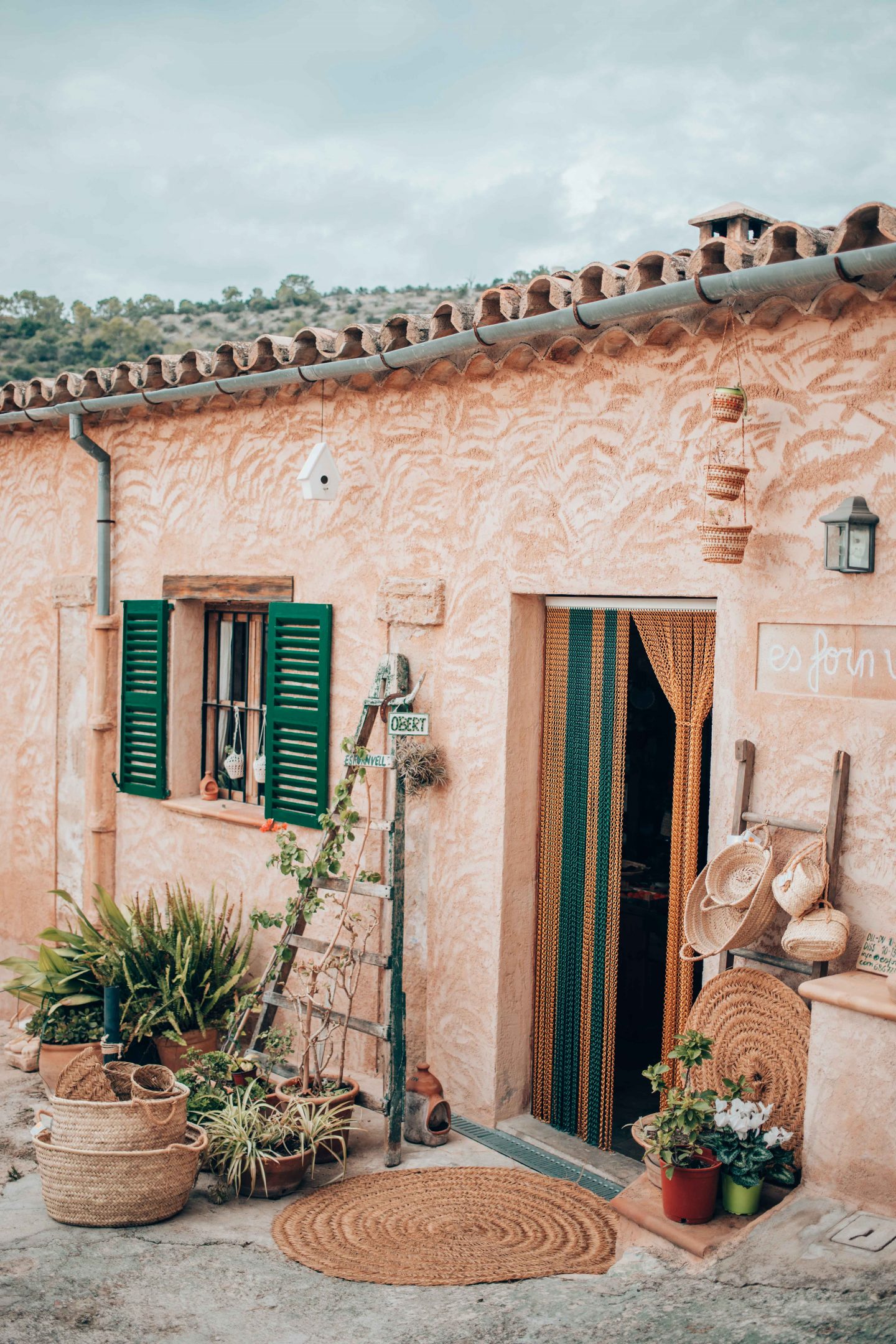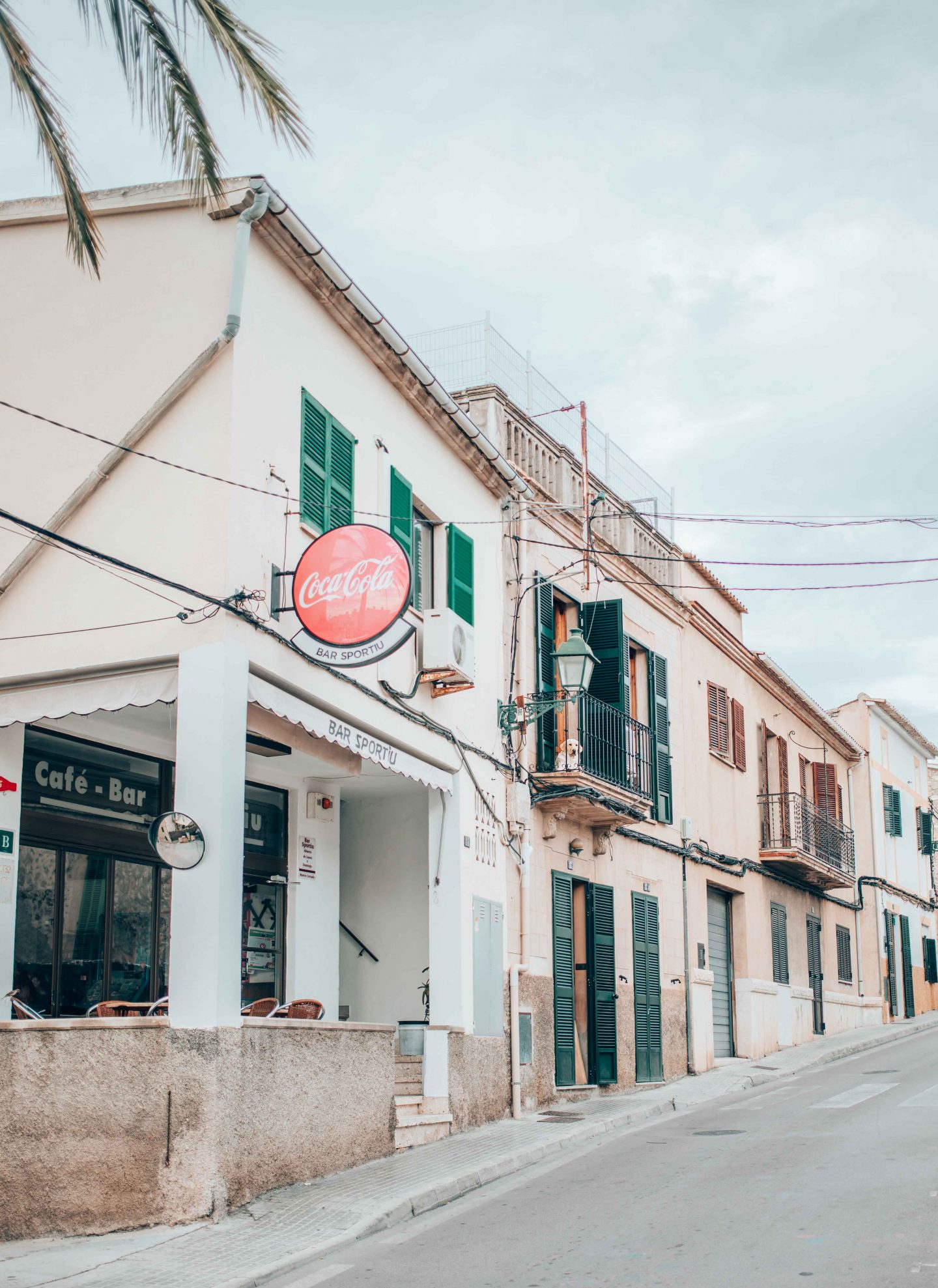 Now that I've told you a bit more about the nature and the history of Calvia, it's time to talk about the beautiful coast! We got to see so many different ports, beaches & resorts that it's hard to keep track of everything! Well, my favorite place has to be Balneario Illetas, a gorgeous restaurant located on the beach in Illetas. We stopped by for lunch and the food was so delicious that I even had dessert, something that never happens!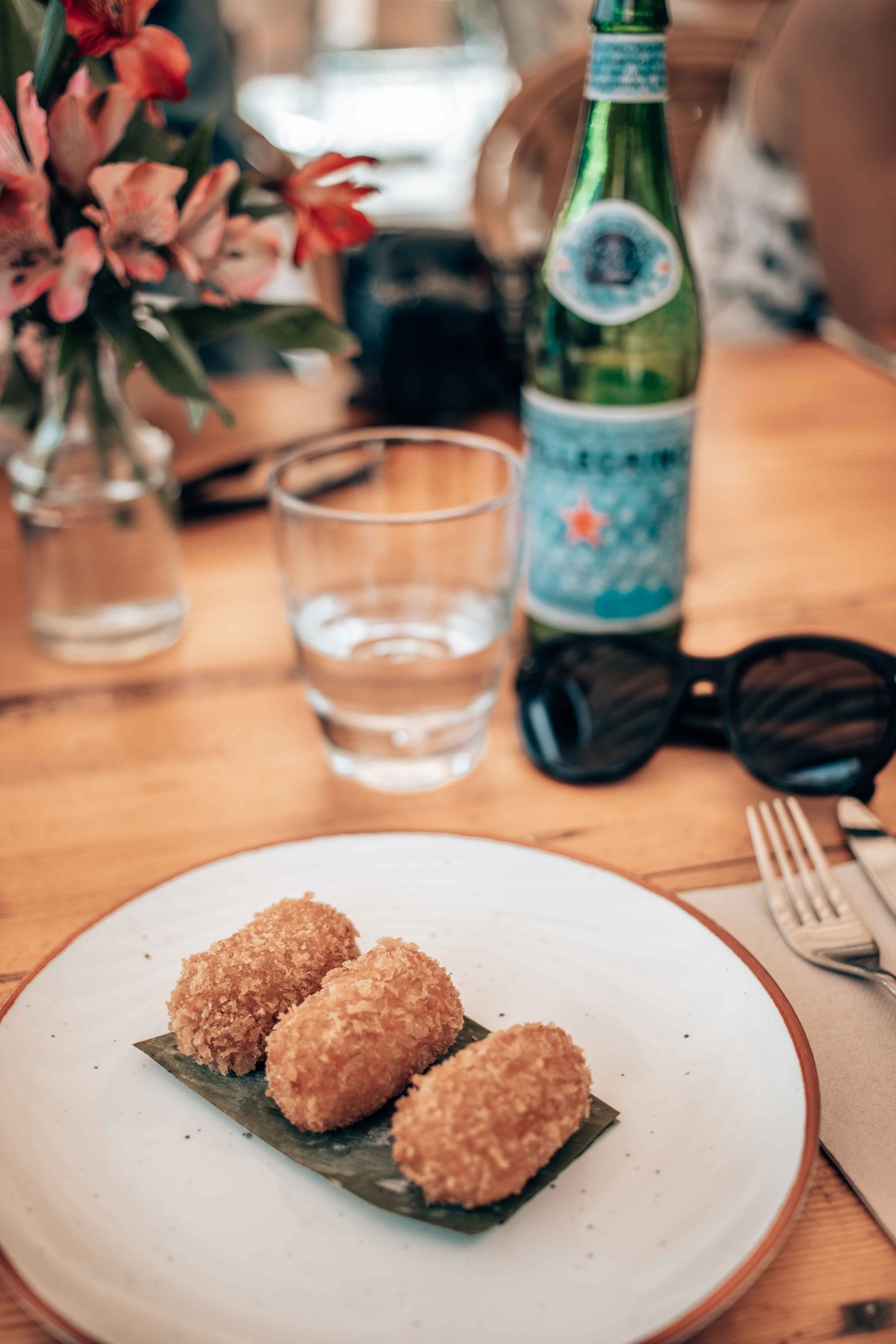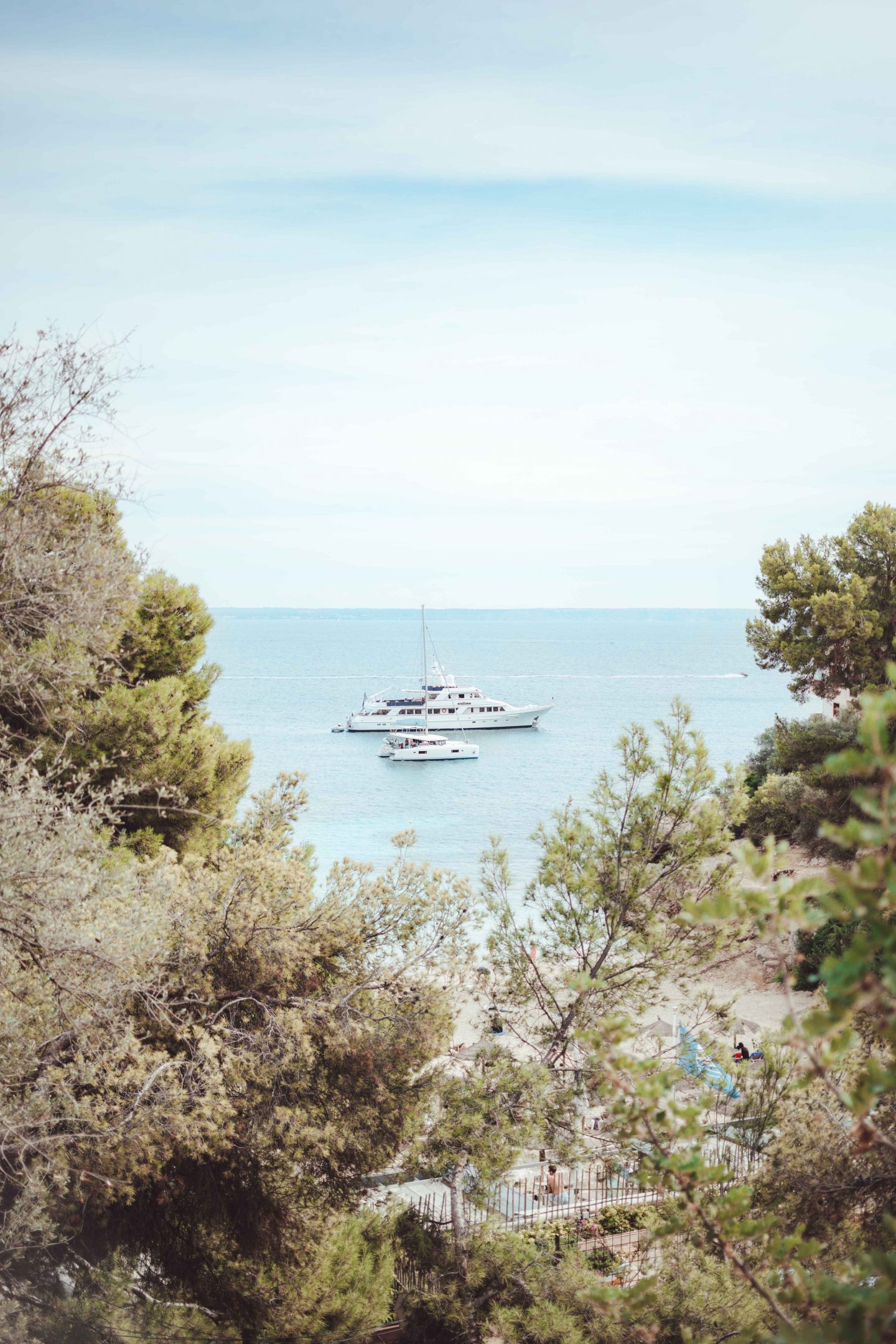 We visited Santa Ponsa, the famous place where James I of Aragon set foot but we also stopped by Peguera to see the start of the triathlon and we had breakfast by the beach. We also had dinner at Blue Nest, a lovely restaurant located in the beautiful and very chic Port Adriano, a marina designed by Starck himself.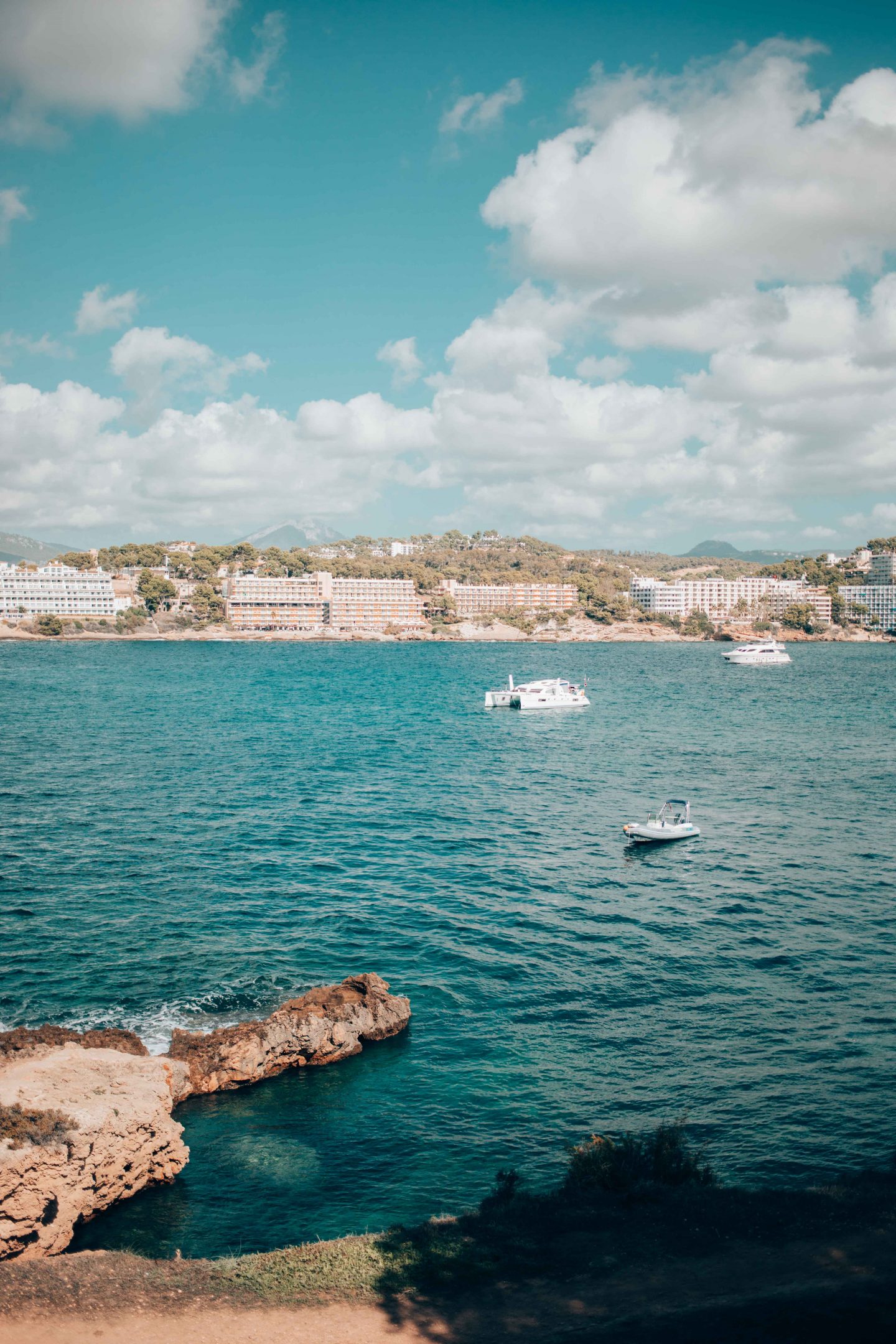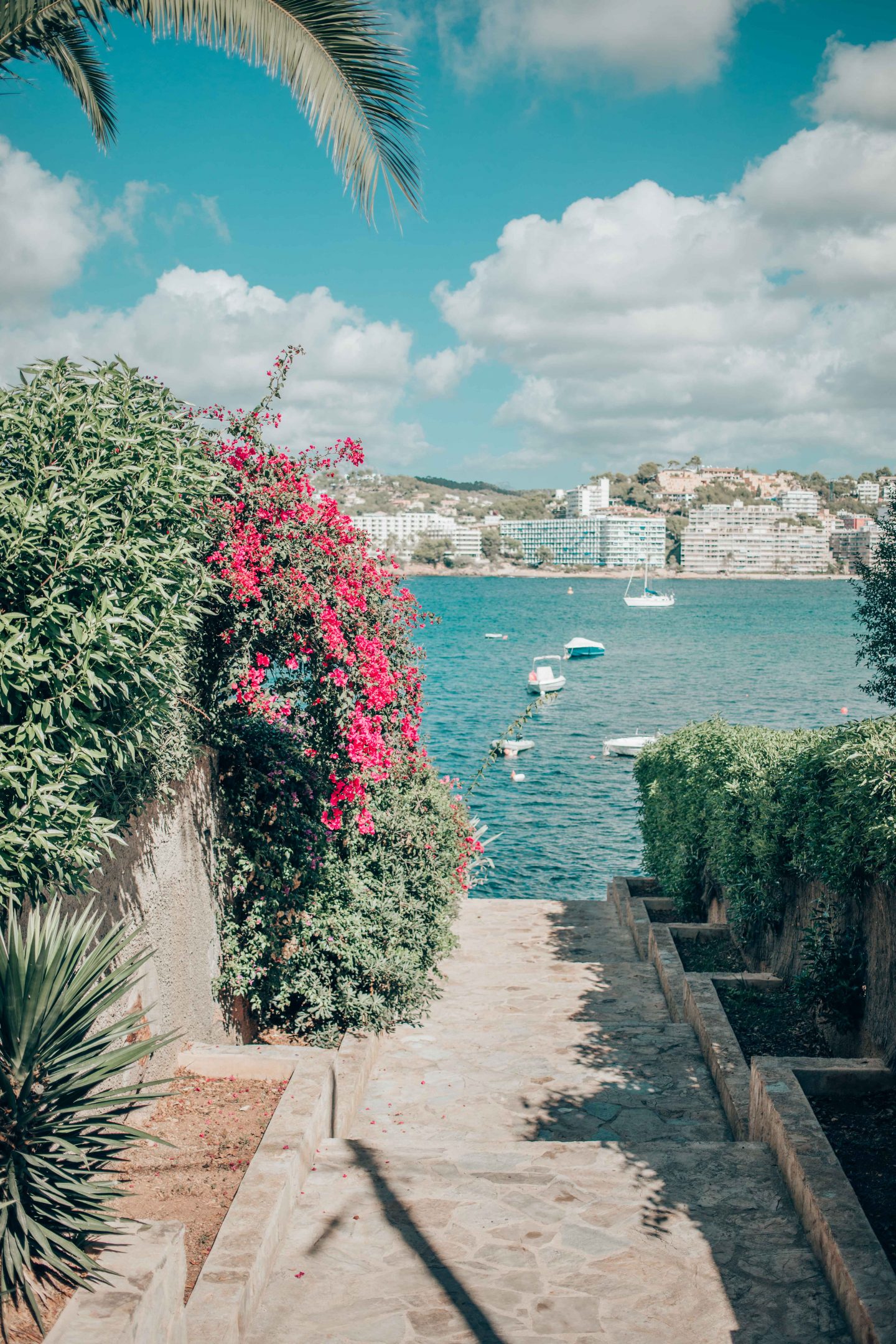 Finally, let's talk about the food, because what would be a good trip without amazing food, right?! As I mentioned earlier, we got to try so many local foods that truly wowed us. Charcuterie, ham, cheeses, and fruits from the island were part of our days in Mallorca! We also tried a Japanese restaurant in Magaluf that was pretty amazing and we also tried a local beer that I really loved! If you decide to visit, I would highly suggest to try out Balneario Illetas, Blue Nest, the Sugar Reef café at the Villamil resort and Wellies in Port Portals.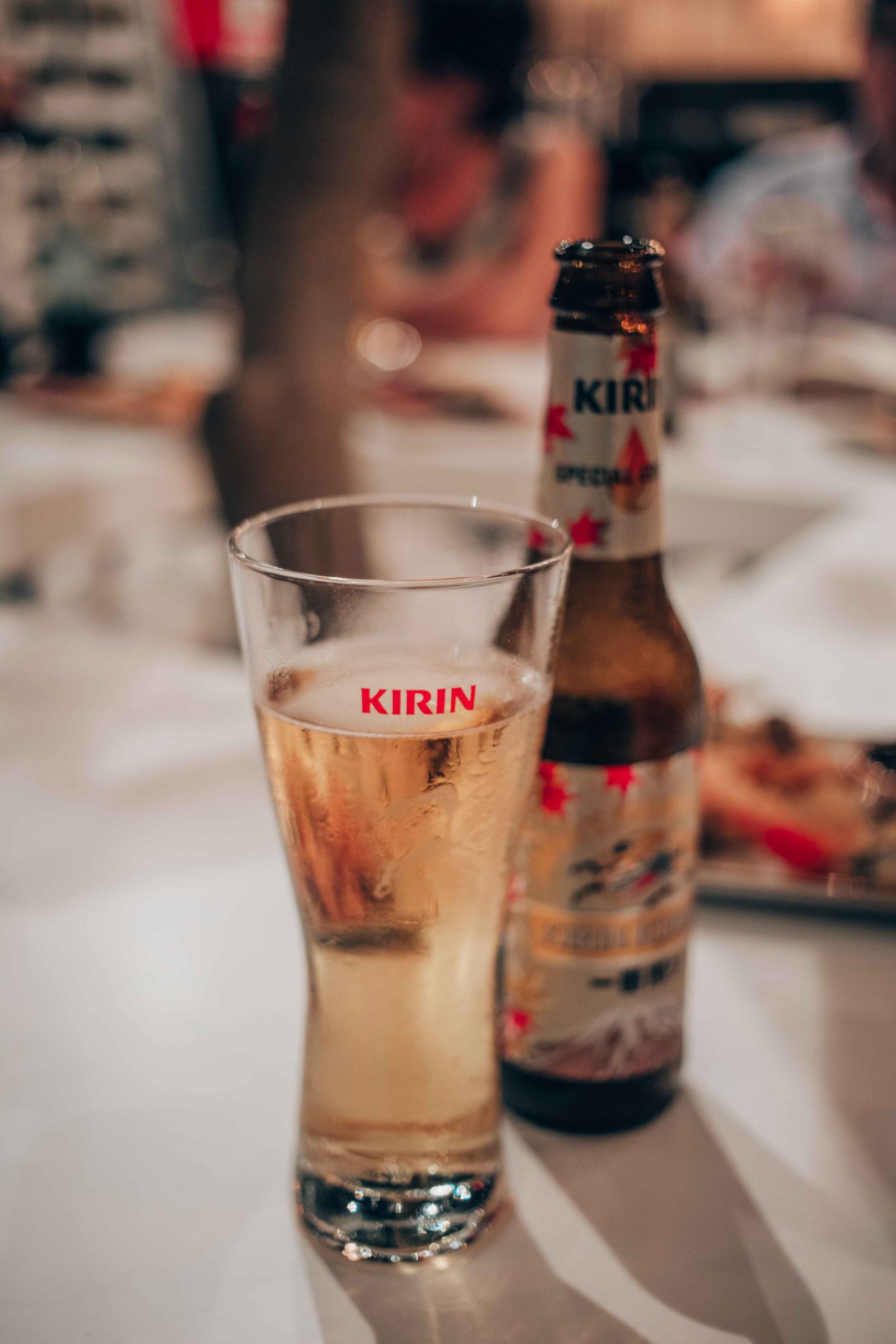 So I hope that this post will encourage you to visit Mallorca & the Calvia region soon! Renaud and I are definitely looking into going back next Fall and discover even more sights!
---
Save on Pinterest