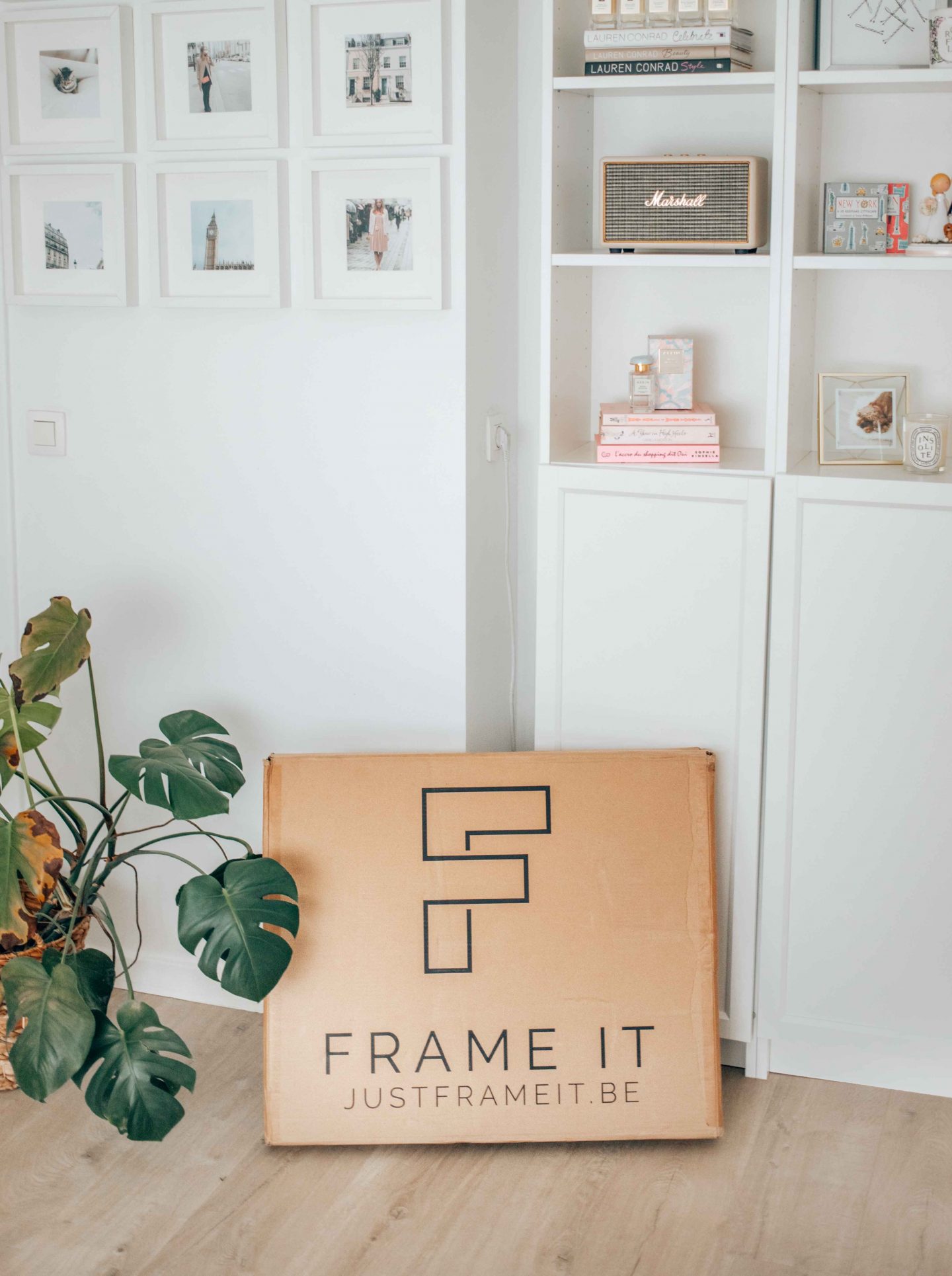 If you're anything like me, chances are that you take hundreds, if not thousands of photos when traveling. Yet, upon coming home, I never take time to print & frame my favorites. So when we returned from our trip to Japan last Spring, I knew that I wanted to print a handful of our photos and place them somewhere special. That's when the opportunity to work with Justframeit.be arrived at the perfect time.
For a few months, I've been wanting to revamp my home office a little bit. While this space worked great for me in the past, I've been feeling a bit uninspired and overwhelmed by it recently. A lot has changed and I now spend most of my workdays in our shared office downstairs but I still spend hours in this office working on the blog or filming videos. So since my use of the space has changed quite a lot, I figured that it was time to upgrade the space a bit as well. While I would love to change my sofabed pretty soon, I started with something easier but that still has a big impact: my photo shelves.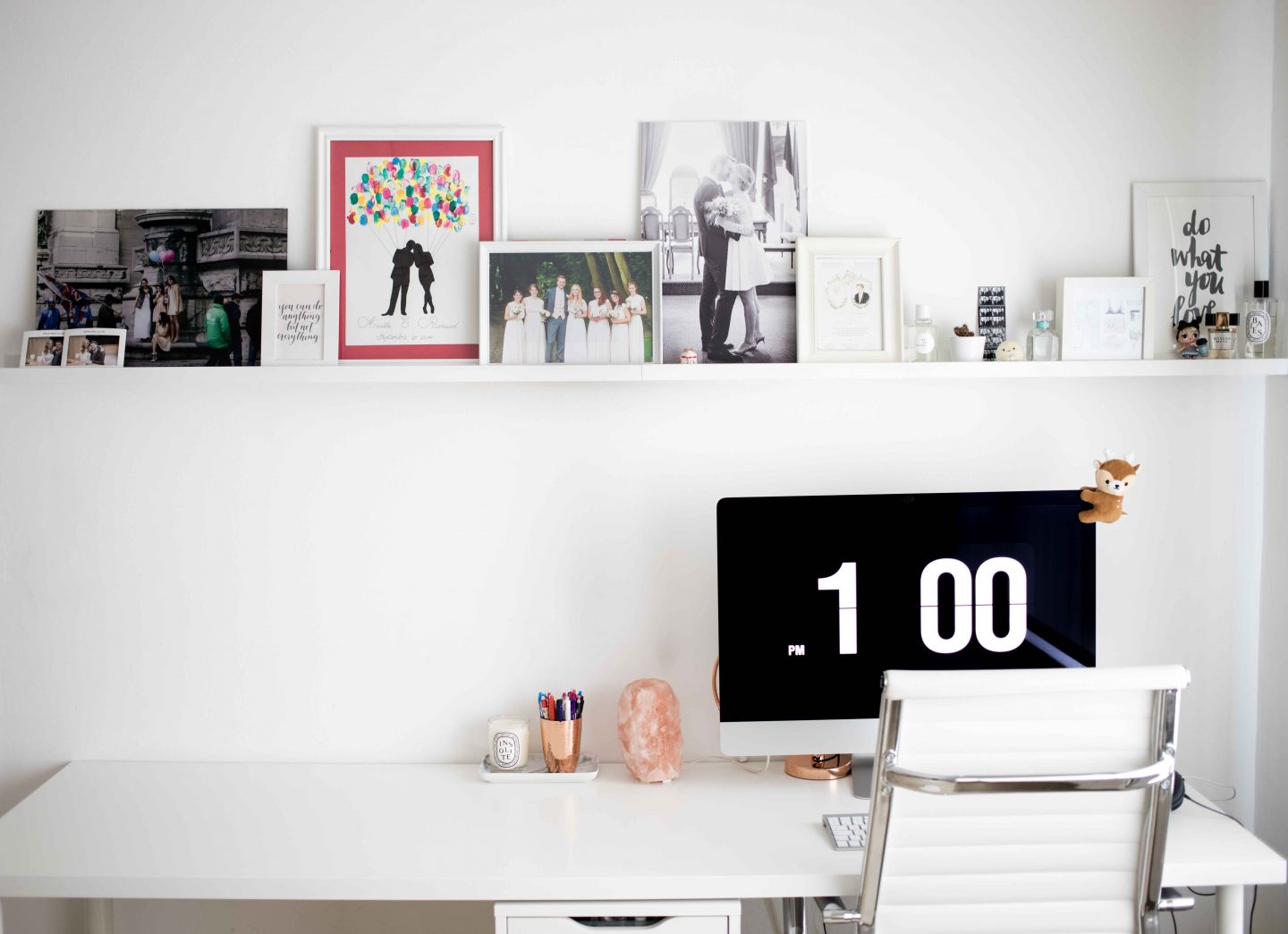 So here's the before shot. As you can see, my photo shelves became a bit of a home for a lot of knick-knacks, from photo booth pictures to perfume bottles. It was time to make it inspiring again and to celebrate one of our favorite memory together: our trip to Japan. It was a trip that we've dreamed about for years so we truly cherish all our memories from it, from photos to random souvenirs. I knew that I wanted to print our favorite photos so I took some time to narrow it down to our 4 favorites: a picture in our favorite temple in Kyoto, a photo of both of us on our first day in Mount Fuji, me pretending to be a Disney princess at Nara Park and us underneath the cherry blossoms.
Once I selected my photos, I uploaded them onto justframeit.be  and selected my favorite frames. I like how white and simple my office furniture is so I knew that I wanted to keep my frames pretty simple and minimal, so I decided to go with the Santorini wide frames, which perfectly blend with my interior. I also decided to get big prints of these photos as my smaller frames looked a bit small for this space. It was a bold choice as it meant that I would have less photos and less space to display other objects but I knew it was the right pick.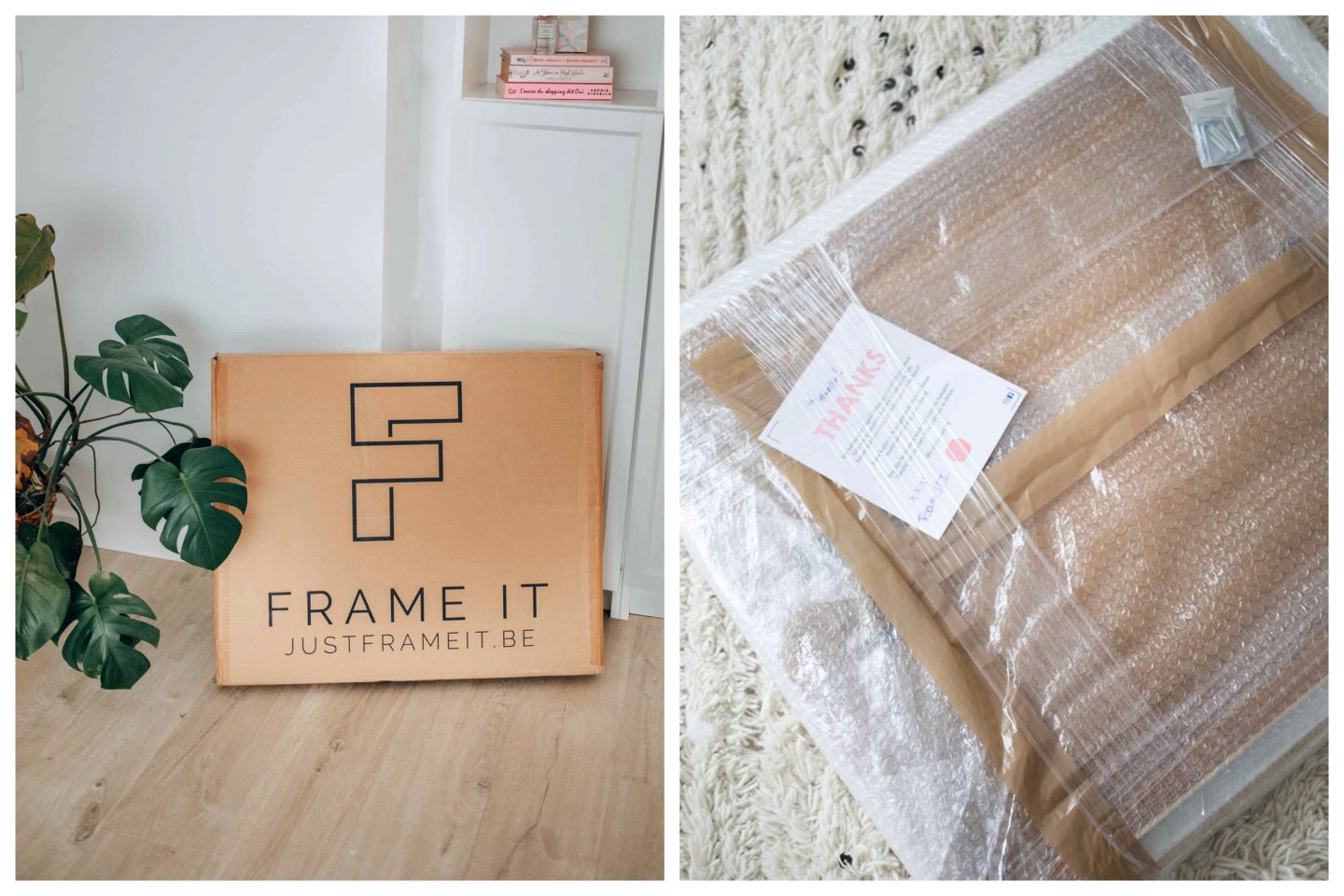 My order took a little over 2 weeks to arrive, which is pretty good considering that they print and frame your pictures. This is where Justframeit.be is different: each of their frames is sealed at the back, which means that you can't really change your photos once they're framed. While some might view it as an inconvenience, I find that it makes for better quality & finish. And the best part is that I don't have any fluff or pet hair trapped between my photos and the glass. My order was extremely well packaged and was not damaged during delivery. All the frames were packed in plastic wrap individually and then packed as a whole in bubble wrap. The card box itself was reinforced with 2 hard pieces of wood which secured the whole thing.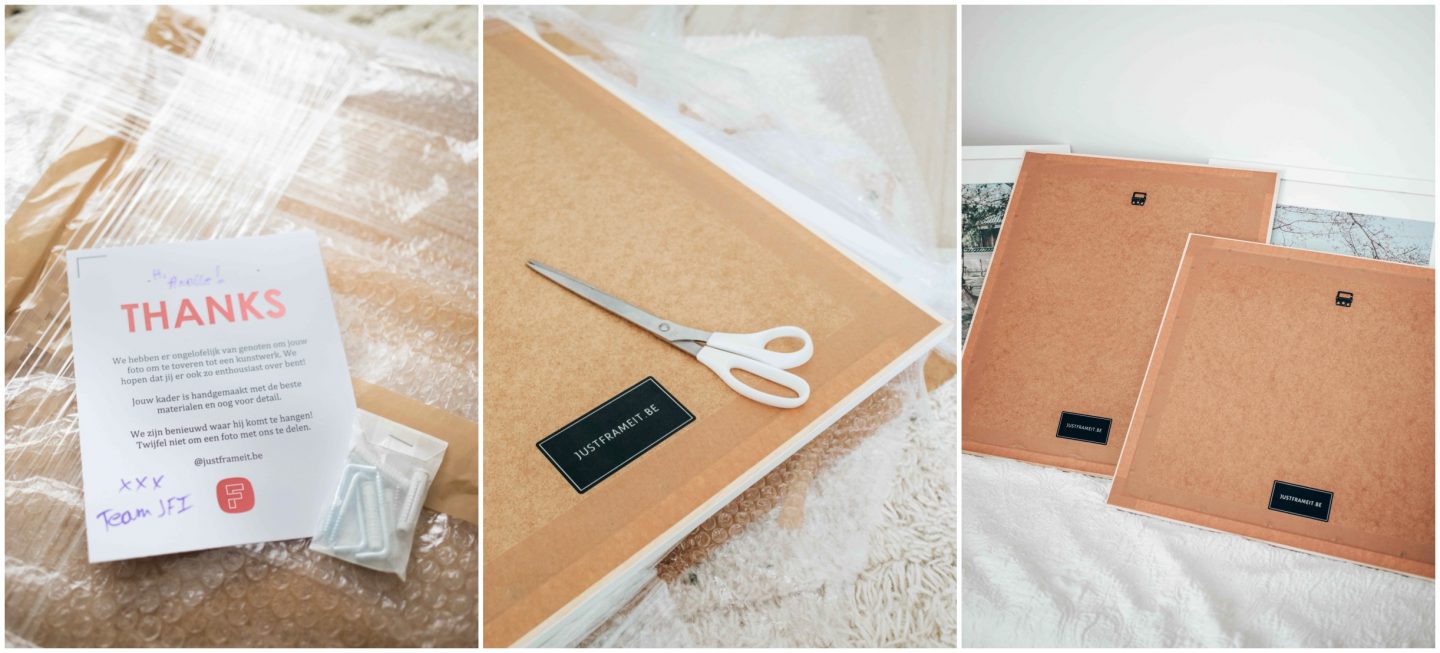 Upon unpacking everything, I discovered that their team even includes hooks to drill into the wall, which is so nice as none of us like to roam through home improvement stores to try and find the perfect one. As you can see, each frame is nicely sealed at the back and each one got a little hook to hang it on the wall. I was so happy to discover that none of the frames were damaged (it has happened to me in the past with other companies) and everything looks just as good as I had hoped.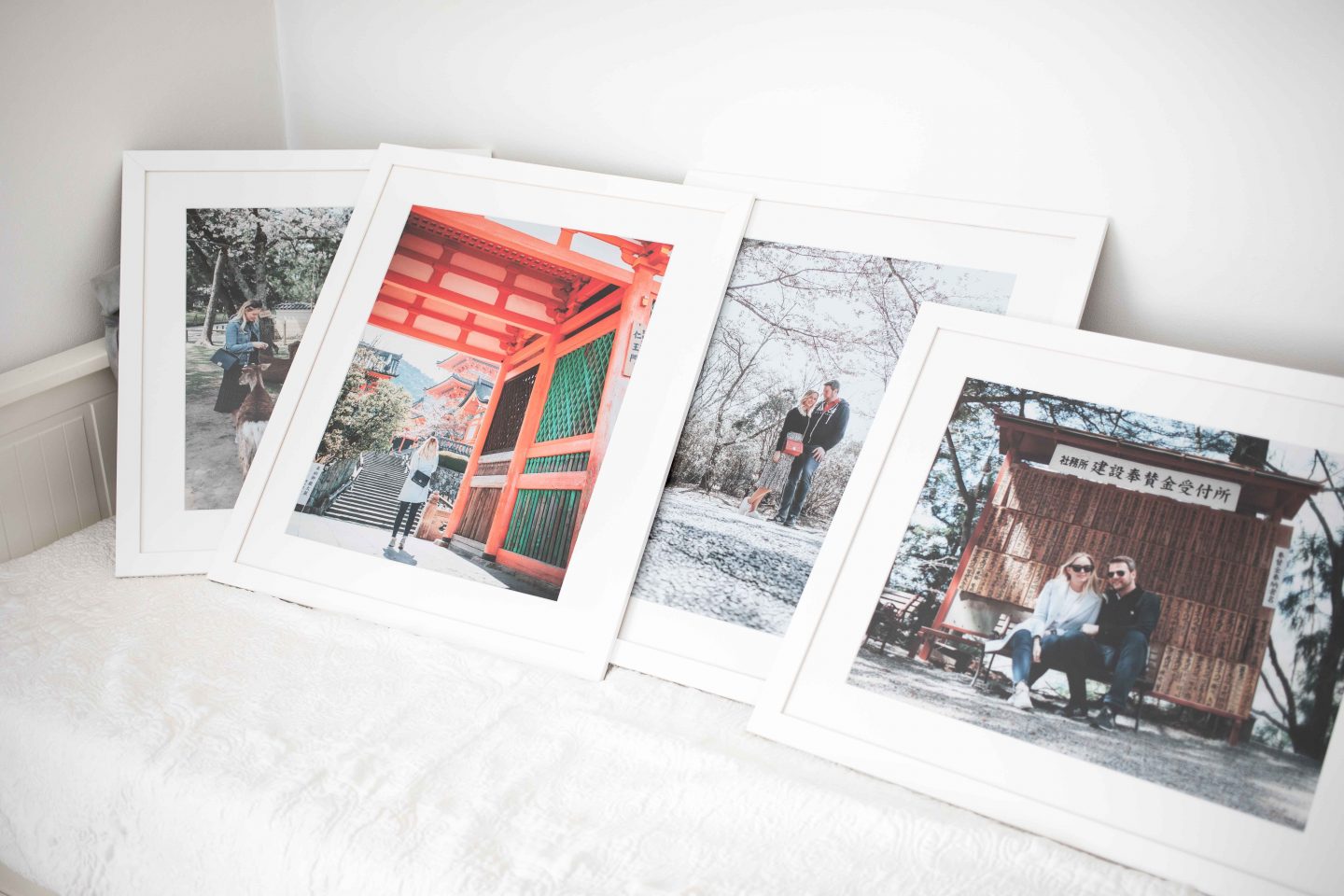 Here are the 4 frames I ordered. I am so glad that I chose big prints as these look really good. The colors are exactly like those on the original photos and I am just so impressed with the quality of it all.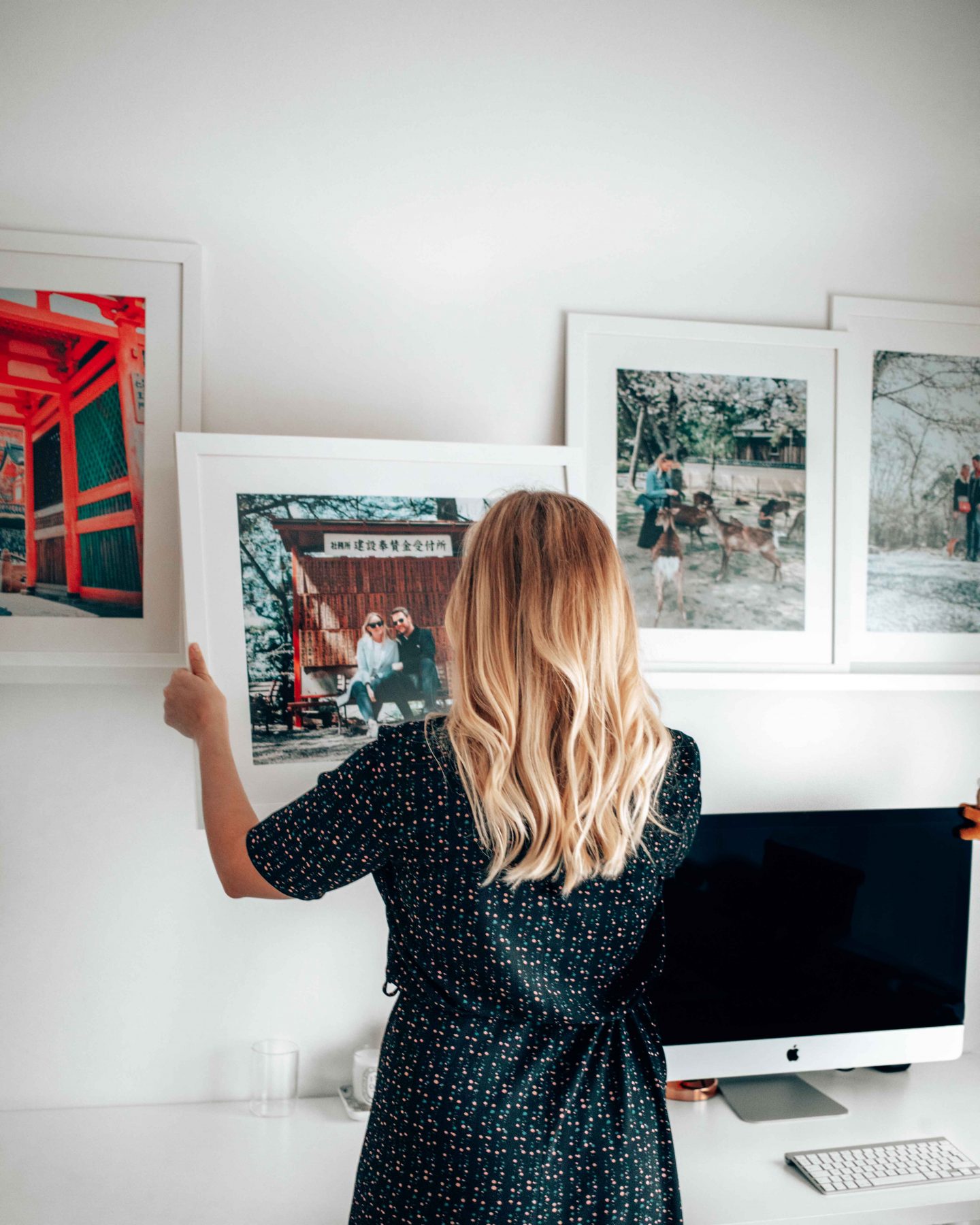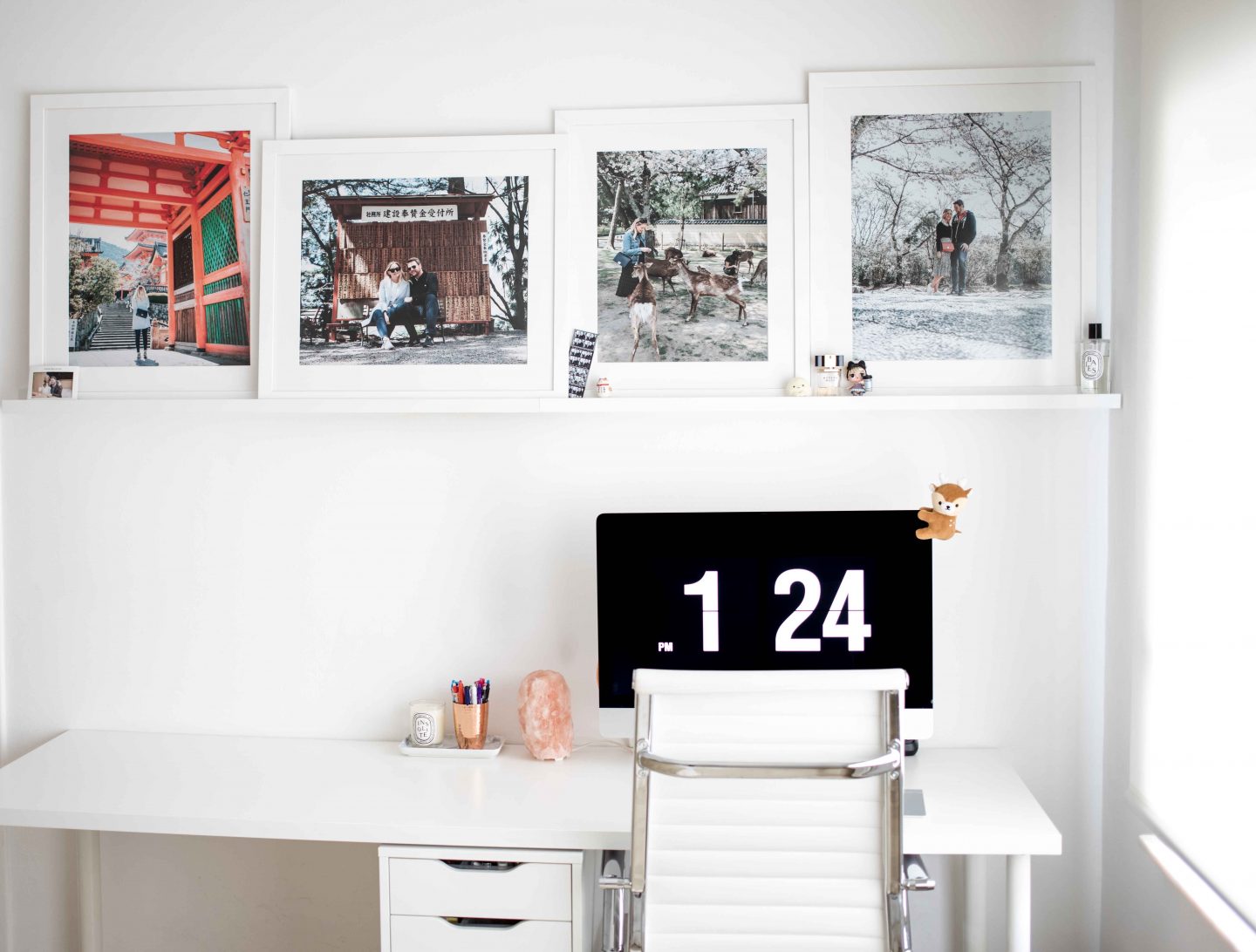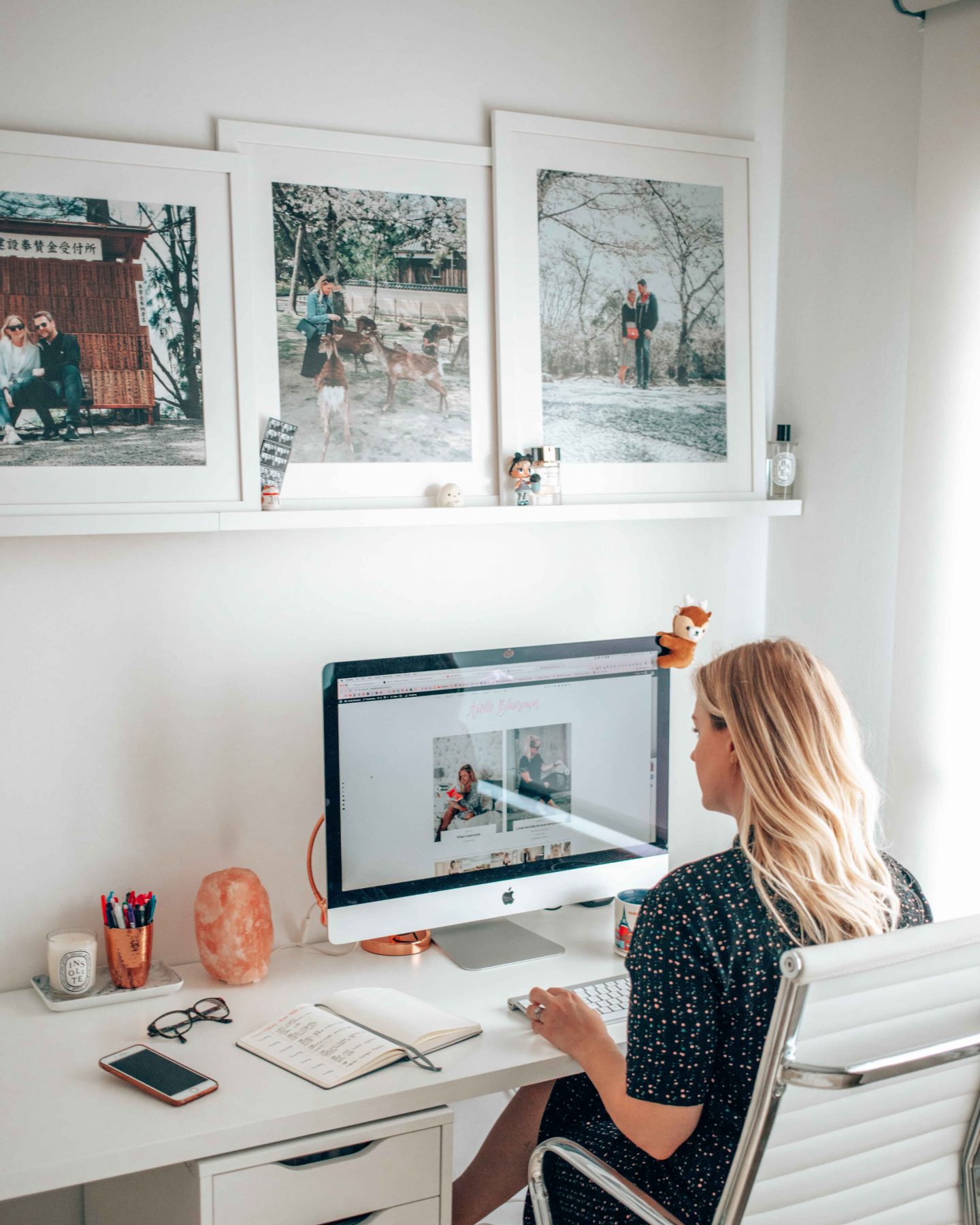 So here's the final result and I am so happy with it! As you can see, I still had a bit of space left to add a few memories from our travels as well as one of my favorite perfume and my room spray. It's crazy to see how such a small chance has had a big impact on my office already. Going bigger was definitely the right choice as it feels way more balanced with the room now. I also love the fact that these photos keep me inspired to get better at photography and to remember to go out and explore the world.
All in all, I am really impressed by the quality of Justframeit.be, I think it is a wonderful way to display your favorite photos. That being said, they also offer a wonderful service to get your favorite memories framed as well, from sports jersey to birth announcements or diplomas. I am currently thinking of getting our wedding invitations framed as well, as it is something that I've been meaning to do forever!
I also think it would be the perfect birthday/wedding/Christmas present for someone that you love! They have a wide variety of frames and sizes so make sure to check out their website to find your perfect match!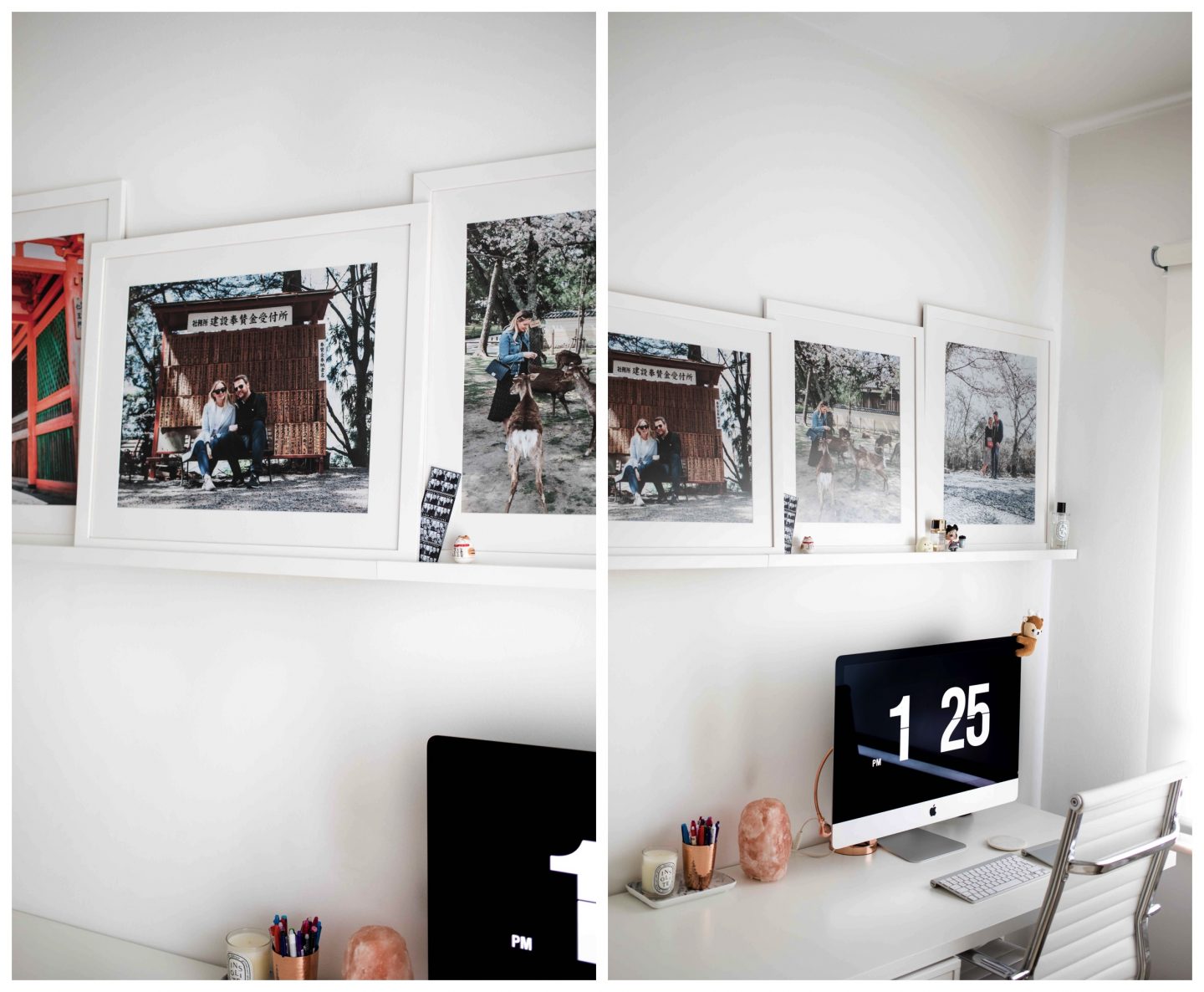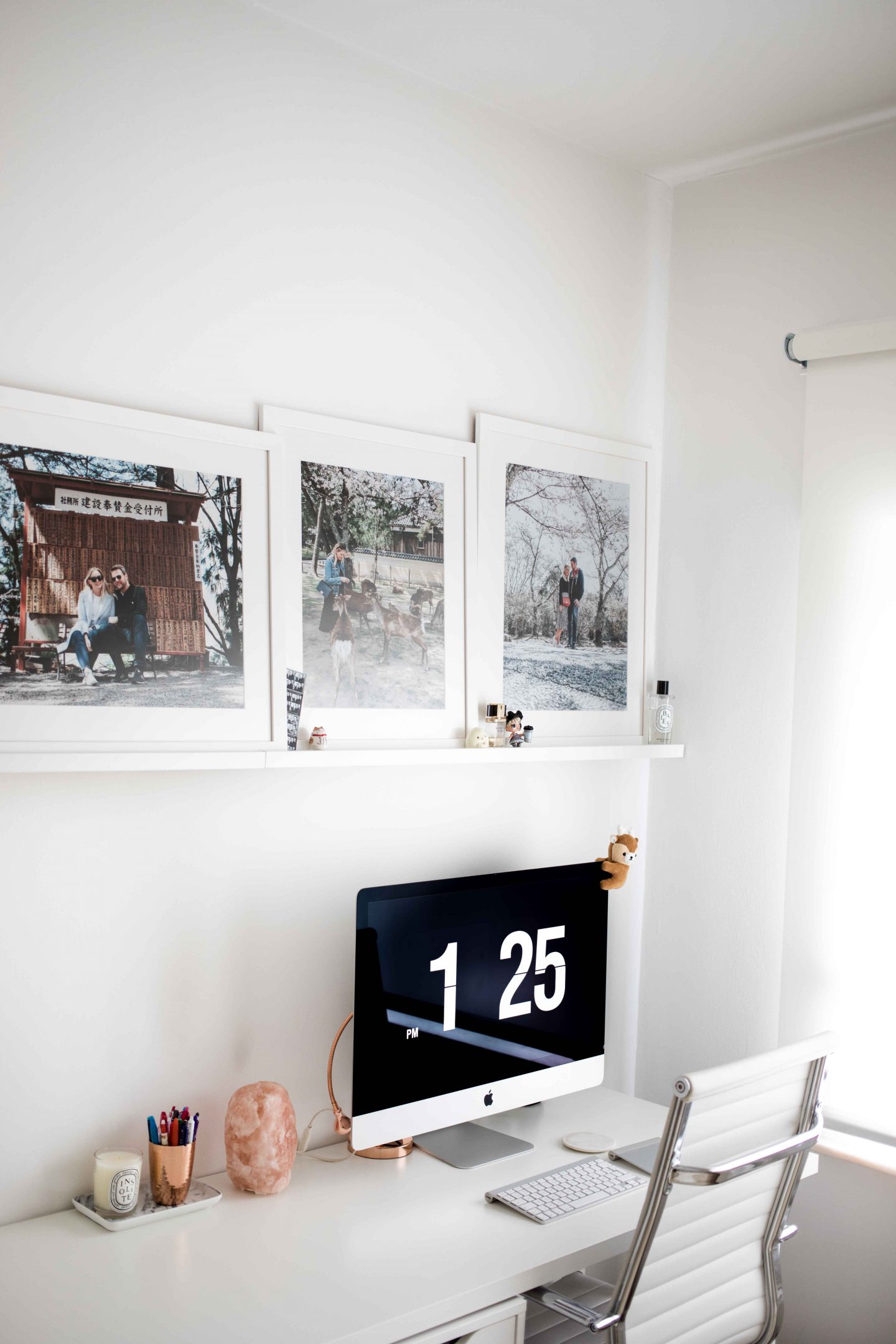 Next up, I'll be revamping the rest of the room! I need to figure out a new desktop situation (mine is currently in an awful state) and I definitely want to replace my sofa bed by something else… So make sure to share your favorite decor inspiration with me or have a look at my office Pinterest board!