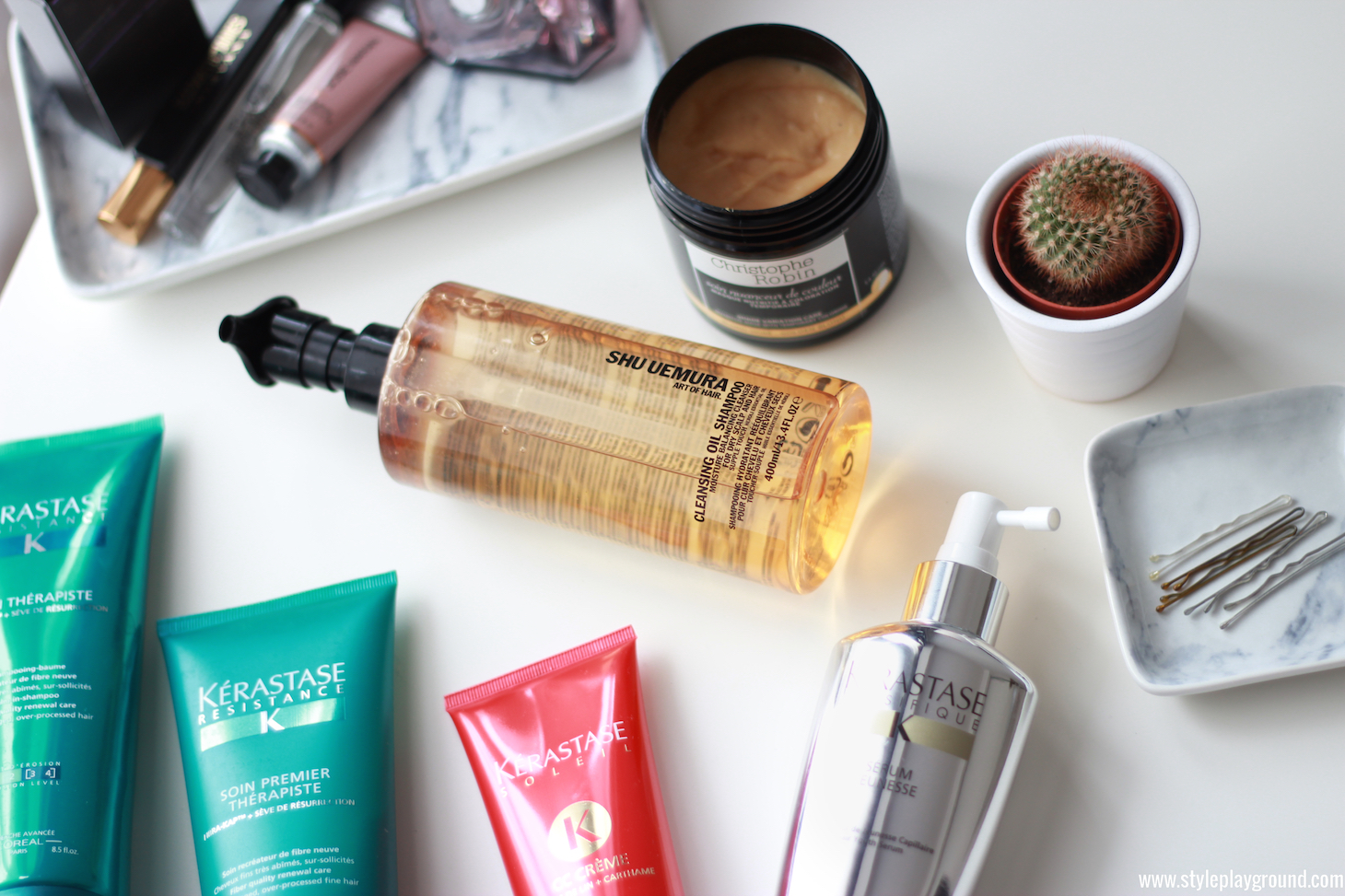 Last Tuesday I shared all my tips to rock second day hair with you and since so many of you loved the post and wanted to know more, I've combined all my recent favorites into this new hair care post! As you probably know if you follow me on Facebook or instagram, I recently cut my hair a little bit shorter. While it's definitely not short, it feels like a nice change right in time for summer… And to prep it even more, I also started using a couple of new(ish) products recently that I am absolutely loving.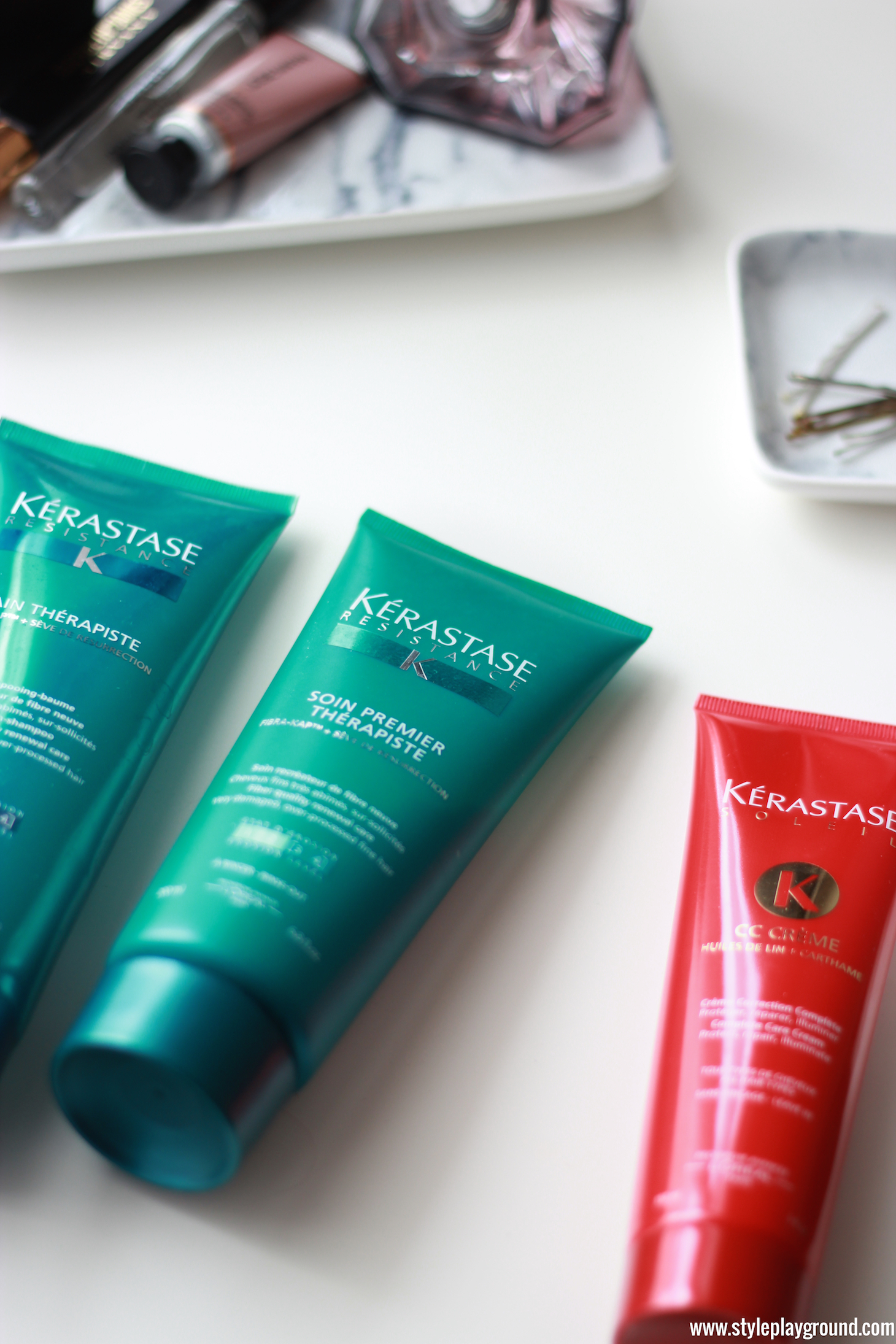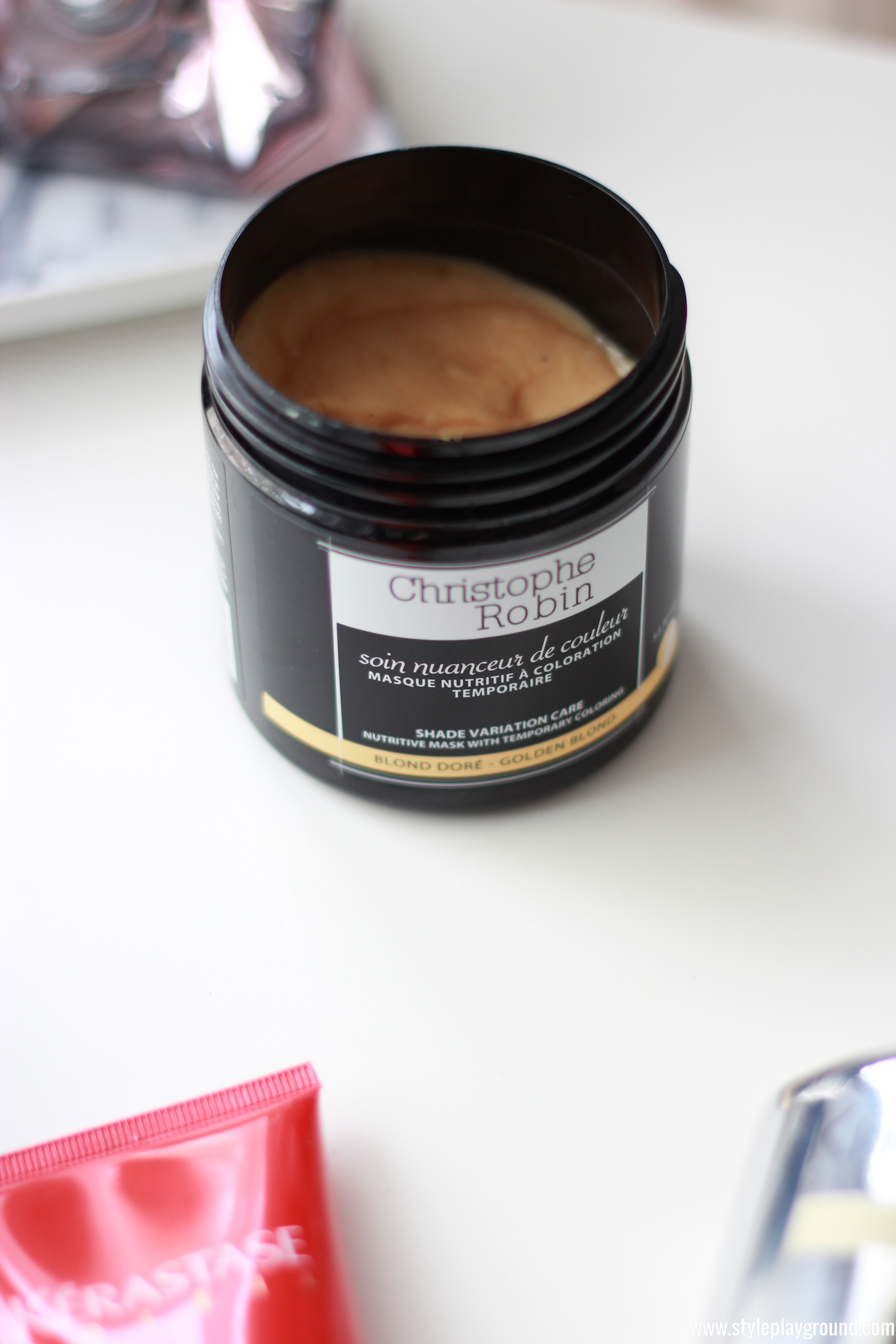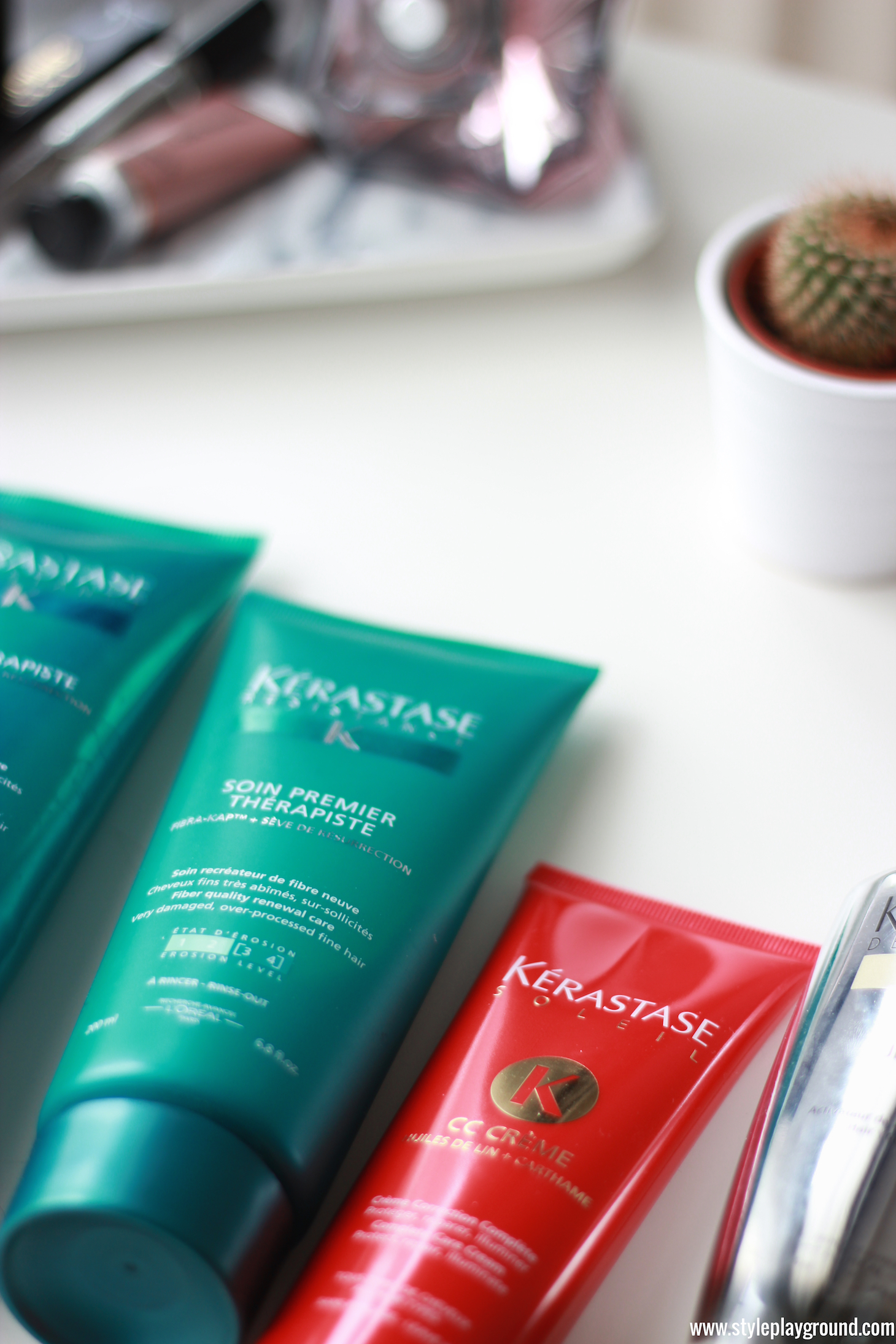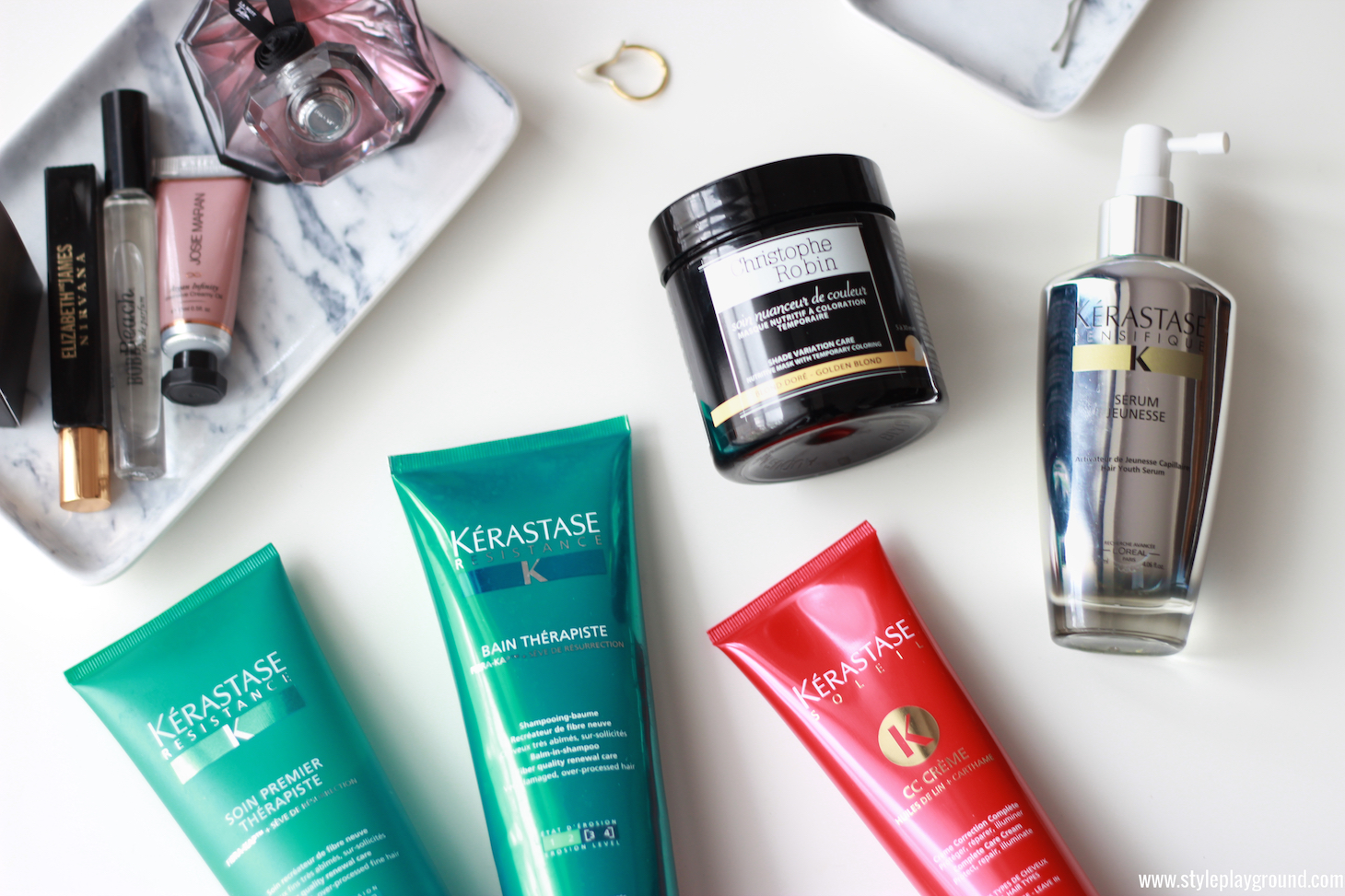 I've heard a ton of things about replacing your shampoo with conditioner. Some say that it's a miracle and that it makes your hair super soft and shiny while others argue that it weights it down and doesn't give any volume or texture. I personally never tried it but when these new Kerastase therapiste products came out, I was intrigued. The range is targeted towards very damaged, overprocessed hair and, while it's not really my case, the fact that they designed a conditioner to be specially used before shampoo sounded very appealing to me. The principle is very simple. You first apply the soin premier therapiste all over your hair and leave it on for a couple of minutes. You then rinse it before using the bain therapiste as a shampoo. Rinse everything well and you're left with beautiful smooth hair. Now, the first time I used it I was very sceptical about the result but in all honesty, it is pretty amazing. The soin doesn't weight your hair down or leave any kind of greasy residue. But I really like the idea of coating your lengths with a conditioner first to protect it from the shampoo which is often a bit stripping. While I've been doing that with a regular conditioner for months now, I never really felt like it was the ideal combination until I tried this range. I only use it once a week since this is a pretty deep treatment but whenever I do, I absolutely love it.
Another product that I use once a week when I am not using the Kerastase products is the Shu Uemura cleansing oil shampoo. Although this doesn't lather very well (I usually need 2 pumps to clean my hair), it feels very cleansing while moisturising the hair and the scalp. And I have to admit that it does a pretty good job. Whenever I am stressed out, my scalp tends to get very dry and a bit itchy and I find that this shampoo helps it to get back to normal in no time. I love to use it whenever I've been applying a ton of products on my hair or right before using the Christophe Robin shade variation care. I've talked about this product in this video and I am still in love with the stuff. A ton of people think that I color my hair but it's just my natural color. I am very fortunate and very happy with it but sometimes, it gets a bit boring, lacks shine and looks a bit too dark at the roots because I haven't been in the sun. But the issue here is that I really don't want to color it since it would means monthly trips to the salon to get the color back in… So, until recently, I didn't really do anything about it, until I discovered this product last year. This treatment is designed to nourish the hair while giving your color, natural or not, a boost. I was very scared to use it the first time but it's all sorts of amazing. First, it feels very moisturising on the hair and nourrish it intensely. Secondly, it is very easy to apply and doesn't leave a greasy residue behind, even on the roots. But the main thing here is that it makes your hair look stunning. It blends all the shades together and gives your hair a lot of shine, which is especially difficult on blond hair. It washes off within 6 shampoos very naturally but I only reapply it once a month or whenever I feel like my color needs a little bit of help.
Lastly, I am loving two treatments at the moment. The Kerastase serum jeunesse that I already reviewed here, is still part of my routine. I use it on damp hair or whenever I use a curling iron and I love the effect that it does to my hair. It makes is a lot lighter and almost fluffy and bouncy, which I totally love. If I am not using it, I reach for the Kerastase CC cream, another recent discovery. This cream is the best to redefine curls or tame frizzy hair. I concentrate it mainly on my ends but you can totally apply a tiny bit on your roots or your lengths as well.
What have you been using on your hair recently? Let me know in the comments!