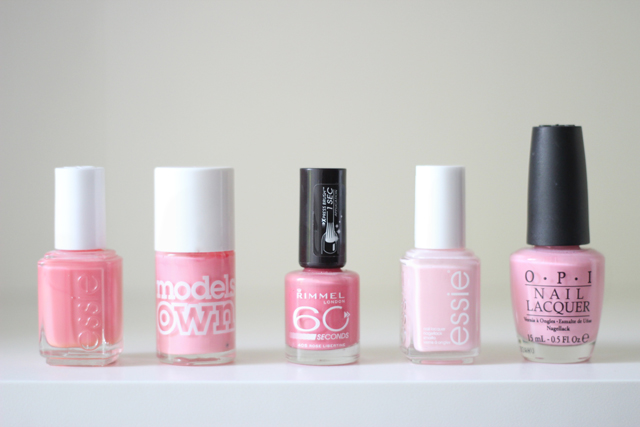 Before I start rambling about my favorite pink nail polishes, I wanted to take a minute to thank you.After my rather big announcement yesterday, my phone has been buzzing non stop. Instagram comments, Facebook likes and personal emails arrived all day long and you guys made this whole announcement that much more special. I've been blogging for more than four years now, and I've been through a lot during this period. I changed countries, lost one of the most important person in my life, moved in with my now fiancé (!!), adopted a dog (& a kitty) and I've been getting constant support from you guys. So thank you, from the bottom of my heart. I cannot wait to share more adventures with you!
Now back to today's subject: pink nail polishes. As far as I can remember, I've always loved a good pink manicure. There's something about the perfect shade of pink that makes your nails look longer, you skin look healthier and yourself a bit happier. While my nail polish rack is flooded with pink options, these 5 are my favorites of the bunch.
First of we have Essie 'shop till I drop'. First off, this name is fabulous. Secondly, this coraly pink is the perfect in between. When painted on the nails, it has the exact color of a rose macaron from Ladurée (and we all know how much I love those!), it's not too coral nor too pink. If I fancy something a bit more pastel, I reach for the Models own 'pastel pink'. Models own are some of my favorite drugstore nailpolishes, and at £5 the bottle, pastel pink is definitely one to add to your basket. The color is just lovely and looks great on anyone. Plus it has one of the best lasting power I've ever come across. If I am in a hurry (or let's be honest, if I don't want to wait 15 minutes for my nails to dry) I always use the Rimmel 60 seconds in 'rose libertine'. I cannot stress enough good things about this nail polish range (I believe that the fact that I have almost every color of the range is enough of a proof) as it really dries within a minute. No joke. This pink shade is a great all around pink that I think everyone will love but there's a downside to it. It doesn't last long on the nails. This is a great one to reach for in a hurry but don't expect too much of it! My favorite one of the bunch is certainly not a surprise. Essie 'Fiji' has been on my nails more times than not and it is the only nail polish that I took on holidays with me last year (and trust me, that says a lot). This shade is totally unique, think light pastel pink but with a white undertone. Nothing too overwhelming here, just a beautiful bright color. It looks insanely good on the nails and make you look a bit more tanned (I swear it does!) while making even the shorter nails look longer! Last but not least, OPI 'pink-ing of you' is a color that doesn't look like much in the bottle but that turns into a beautiful bright pink while applied on your nails. I actually got this color because I always asked my bestie Aurore what was on her nails and after a dozen of the same answer, I decided to get the color. Also, great thumbs up for the lasting power, this little guy manages to stay around for a rather impressive amount of days on my nails!