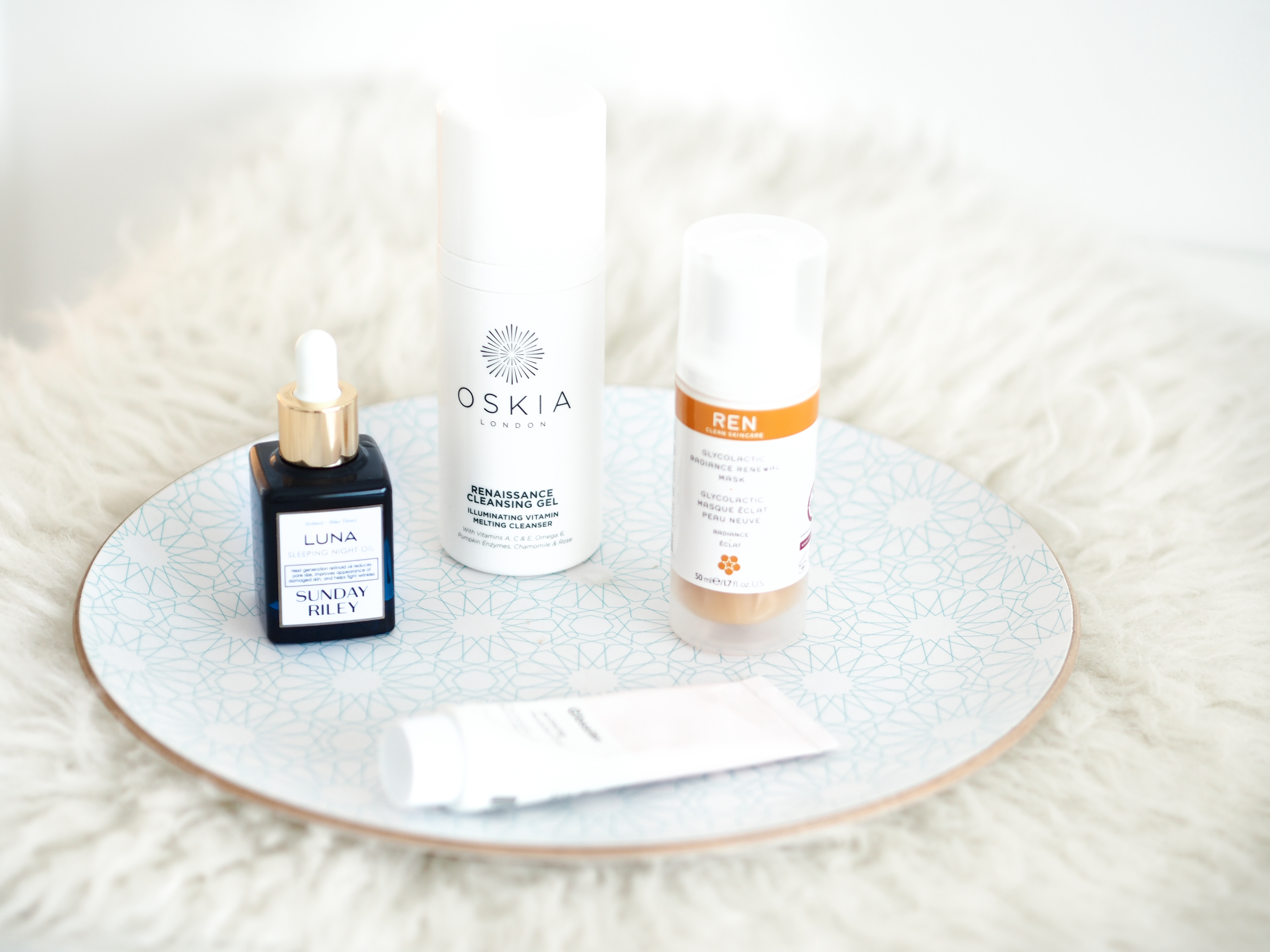 With my wedding literally around the corner, I've been updating my skincare regimen quite a bit and I've spend a bit more time pampering myself than usual. I am pretty worried about trying anything new on my skin since it's often very sensitive, so I've been shopping my stash as we say and decided to give you all the details.
Now, it's no secret that I am a sucker for cosmetics and I can't really resist a good buzz. All these four products have been quite talked about recently and I am happy to report that they are all fabulous… Let me tell you more!
First of all, let me tell you all about my most recent discovery but by far my favorite. Sunday Riley's Luna oil has been around for a few months now and everyone talked about it, from magazines to bloggers. While I had put it in my Cult beauty basket numerous times before, its crazy price point always put me off. I finally got it last month in London and as soon as I used it the first time, I knew what all the hype was about. I've been looking for a product to minimize the appearance of my pores for years now, and I've finally found it. This blue oil is packed with retinol, avocado oil & rosemary extract and it's the best thing I've ever come across that really works on all my main issues. My dry skin feels and looks great, my redness is finally under control and, best of all, I can see my pores getting smaller and smaller every day. While it has a few flaws (its extravagant price & the fact that it does transfer onto white sheets & pajama tops), I can 100% say that I will repurchase one as soon as I am done with it!
Another product that is quite the talk of the town is the Oskia renaissance cleansing gel. Now, I've had this one for quite some time now and after weeks of debating whether I liked it a lot or if it wasn't special at all, I am happy to report that I absolutely love it. Think of this as a light balm but in a tube, which means that you get the best of both worlds! While I don't really like it to remove makeup (I find it takes a bit too much time & effort), I absolutely love it as a second cleanse or as a morning cleanser. It feels very rich and luxurious on the skin and while it's not the most powerful cleanser out there, it is perfect for my dry, sensitive skin. I usually massage it onto dry skin before adding a bit of warm water and rinsing it off with a warm muslin cloth.
The Ren glycolic radiance renewal mask is another product that is often talked about. If you've been reading my blog for quite some time, you probably know that I really enjoy using Ren products. The British brand does some incredible products that are always nasty free (no parabens, sulphates, DEA, PEGS,…) but never disappoint. I finished my Aesop parsley seed mask a couple of months ago but I decided to go for this one instead and I am happy that I did! While this one contains quite a bit of glycolic acid, it didn't feel too harsh or too stripping on my skin. On the contrary, it left it very clean but also very bright. While I wouldn't recommend to use it on the day of a special event, it is the perfect pick me up if your skin looks a bit dull and lackluster a few days before an important meeting or a special party!
Finally, the last product that I wanted to mention is the Glossier priming moisturizer. This little pink & white tube looks like nothing but trust me when I say this is good. My main issue when it comes to face moisturizers is that I never seem able to find the perfect balance. While my skin needs something that keeps all the moisture & hydration in, I often find these rich formulas to be a bit greasy and a bit too much. But whenever I try to switch to a lighter face cream that allows me to apply my makeup straight afterwards, my skin feels tight within hours. This one however ticks all the right boxes. It keeps my skin nourished but always acts as a great base to apply makeup. It doesn't have a strong smell and the fact that it comes in a tube makes it way more sanitary to use than a regular pot when bacteria tends to grow like crazy.
Have you tried any much hyped product recently? I am personally dreaming of trying the new Anastasia glow kit or the Ren flash defence ati-pollution mist!